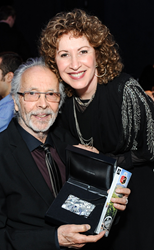 Los Angeles (PRWEB) March 18, 2014
REDCAT (Roy and Edna Disney/CalArts Theater) celebrated its role as one of the most influential cultural centers in Los Angeles on Saturday, March 15, 2014, with CalArts' REDCAT Gala, a magnificent affair honoring legendary artist and philanthropist, Herb Alpert. The event raised more than $600,000 for programming at REDCAT, CalArts' Downtown Center for Contemporary Arts.
The evening began with the red carpet arrivals of art, stage and music world luminaries and philanthropists, who gathered for cocktails in REDCAT's Jack H. Skirball Lobby where DJ Carlos Nino of Spaceways Radio was spinning a collection of eclectic world music. The Gallery at REDCAT featured a performance installation by Pablo Bronstein, including solo dances by Jos McKain and Rebecca Bruno.
Members of the CalArts' New Millenium Brass Ensemble heralded the start of dinner as guests entered the theater, which was transformed into a grand dining hall. Guests were seated at tables under a large, three-dimensional art installation hovering in the center of the room, designed to resemble clouds and made of a variety of reflective materials onto which pastel colors were projected. Created by artists and architects Frank Escher and Ravi GuneWardena, the clouds represent the ephemeral, fleeting, and randomly structured formations found in all forms of creative thinking and to illustrate thought, change, movement and rhythm.
Guests were greeted by Master of Ceremonies, Emmy Award-winning actor James Cromwell, who welcomed them and thanked event co-chairs Maria Arena Bell, Neda and Tim Disney, Jamie and Michael Lynton, and Malissa and Bobby Shriver.
The menu, provided by Jackson Catering, consisted of a first course of braised and grilled heart of palm; summer corn, hazelnuts, butter lettuce, champagne, dijon mustard; followed by a main course of braised short ribs, cauliflower fondue, chickpea crusted green beans, gribiche sauce. There was also a Vegan alternate of Eggplant Napoleon, cauliflower fondue, chickpea crusted green beans, crushed basil sauce.
While guests enjoyed their meal, Mr. Cromwell introduced CalArts President Steven Lavine, who presented the REDCAT Award to Herb Albert.
After accepting the REDCAT Award, Herb Alpert acknowledged the special twenty-year partnership between the Herb Alpert Award in the Arts and CalArts, which has led to financial and creative support for over 100 mid-career, risk-taking artists. He took a moment to announce and congratulate the 2014 winners, who are: experimental documentary film maker Deborah Stratman (Film/Video), composer/avant-garde saxophonist/sound artist Matana Roberts (Music), theater artist Annie Dorsen (Theatre), post conceptual artist Daniel Joseph Martinez (Visual Arts) and tap dance choreographer Michelle Dorrance (Dance).
Guests were then treated to a spectacular after dinner performance by Herb Alpert and Grammy Award-winning singer Lani Hall, who were joined by a three-piece band for a musical set featuring songs from their 2014 Grammy Award-winning album Stepping Out, as well as a medley of classic Herb Alpert hits, and more.
Before the close of the program in the theater, REDCAT Executive Director Mark Murphy returned to the stage, announcing the gala had raised more than $600,000 and thanking the altruistic crowd of artists and arts patrons before inviting everyone back upstairs to the Jack H. Skirball Lobby, where DJ Carlos Nino was once again spinning in the Lounge. With lively music and dancing, the Gala After Party continued on into the night as guests extended the celebration of Herb Alpert, CalArts and REDCAT.
About the REDCAT Award
Each year, individuals who exemplify the generosity and talent that define and lead the field of contemporary art are presented with the REDCAT Award, designed by Frank Gehry and fabricated by Tiffany & Co. Celebrating the spirit of innovation and the transformation of ideas through creative acts, the award honors both philanthropists and artists, for together they embody the invaluable alliance that shapes eras and defines cultures.
Herb Alpert's profound passion for arts and culture has taken many forms and changed thousands of lives. His multi-faceted artistic career continues to contribute to contemporary culture, most notably through the gift of his music, including his rich performing partnership with Lani Hall. Through the Herb Alpert Foundation, his extraordinary generosity has empowered and transformed generations of young and mid-career artists.
A close association with California Institute of the Arts (CalArts) for nearly 25 years has led to the establishment of The Herb Alpert School of Music at CalArts (2008), and building the endowment for the Community Arts Partnership (CAP), which serves youth in some of Los Angeles' most underserved neighborhoods. Celebrating its 20th anniversary, the Herb Alpert Award in the Arts has given annual prizes to mid-career, risk-taking artists working in Dance, Film/Video, Music, Theatre, and Visual Arts.
The Herb Alpert Foundation's significant contributions include the 2007 formation of the UCLA Herb Alpert School of Music, and its 2012 addition of The Thelonious Monk Institute of Jazz Performance, creating a premier institution for the advancement of jazz. The Herb Alpert Scholarships for Emerging Young Artists provide recognition and support to talented California high school students, and at the other end of the spectrum, the P.S. ARTS/Lawndale Elementary School District Initiative has brought sequential and rigorous arts education into the elementary school classroom. The 2010 gift to theHarlem School of the Arts helped rebuild the school, and Alpert's generosity was honored in a building renaming into "The Harlem School of the Arts – The Herb Alpert Center." More recently, a substantial commitment to the L.A. City College Music Department established the Herb Alpert Scholars to attract exceptional music students, regardless of their background.
In 2013, in recognition of his years of artistic and philanthropic contributions, Herb Alpert was presented the National Medal of Arts at the White House by President Barack Obama.