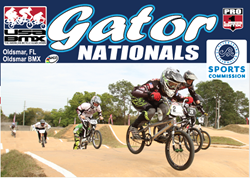 The economic impact of this event will bring millions of dollars to the Oldsmar economy and the event could not have taken place without the incredible support of St.Petersburg - Clearwater Sports Commission.
Gilbert, AZ (PRWEB) March 20, 2014
Over the weekend of March 21-23, the USA BMX National Series will return to Oldsmar BMX inside the Canal Park sports complex. Along with the event will come both professional BMX racers from all over the World, along with our Nation's fastest Amateur BMX riders.
This event will attract the very best professional BMX racers in the World - including nearly half of the 48 competitors from the 2012 London Olympic Games, along with more than 1,100 amateur competitors from over 37 states and eight countries.
Among those in attendance this weekend will be the Mens Olympic Gold medalist from both 2008 & 2012 - Maris Strombergs, from Latvia, and Olympic silver medalist and reigning USA BMX No.1 Pro Sam Willoughby of Australia.
In addition, all five members of the 2012 U.S. Olympic team will be on hand to kick off their individual chases for the USA BMX No.1 titles. With only one pro race in the books, Minnesota's Alise Post has been dominant, but she'll have the womens Gold medalist and current No.1 Woman Pro Mariana Pajon to contend with.
This is only the second pro race of the 2014 season, and there is sure to be some incredible action with racers from all over South America making the trek to Florida.
Last year, Willoughby shattered BMX records - with a total of 20 pro wins for the season - including a record-making 13 in a row. After winning the first race of the year in January, he is excited for the 2014 season and always looks forward to the Oldsmar event. "I can't wait to be back on deck racing in Sunny Florida. (The) track is always dialed," Willoughby recently tweeted - at #SW91.
Along with top Pros and Olympians, there will be over 1,100 amateur racers - ages 2 to 70-plus, competing for the weekend's awards and national points. This is a big part of what makes BMX racing a true Family sport - where mom and dads get to participate along with their children.
Saturday's racing kicks off before noon, with the Strider bike class for 2 & Under, 3, 4 and 5 year olds. On occasion, youngsters as young as 20 months old have raced on the shortened section of the track aboard these pedal-less push bikes.
The economic impact of this event will bring millions of dollars to the Oldsmar economy and the event could not have taken place without the incredible support of St.Petersburg - Clearwater Sports Commission. This is the 12th consecutive year that the Gator nationals has been held at the Oldsmar facility.
GATOR NATIONAL SCHEDULE:
The USA BMX Gator Nationals will be held March 21 thru 23 - and is located at 3120 Tampa Road, just inside the Canal Park sports complex.
FRIDAY: Action begins on Friday with practice throughout the afternoon and a pre-race starting at 5pm.
SATURDAY: Practice continues in the morning and National racing kicks off promptly at 11:30am with Strider (balance bike) racing for 2, 3 and 4 year olds, followed by the first rounds of Pro racing.
SUNDAY: Action begins at 8am, with the main events starting at approx 12 noon.
ABOUT BMX RACING: America's finest athletes, along with Elite racers from Brazil, Colombia, Argentina, Latvia, Australia, Great Britain, France, Canada and more, are all expected to compete in Oldsmar. Thanks in part to the global exposure that the Olympics have brought, the sport of BMX racing continues to grow in numbers and popularity with today's youth. As the largest extreme sport in the nation, BMX racing is full of nonstop action. Up to eight riders speed down the starting hill, maneuvering over dirt obstacles and around banked turns in hopes of gaining a spot on the podium.
The Olympic sport of BMX Racing is exciting to watch - and spectating is FREE!

There will be a $5 parking fee, which goes to support the track.
-- -- -- end -- -- -- --
ABOUT OLDSMAR BMX: The Oldsmar BMX track was built in 2001 and has consistently played host to the Gator Nationals. The non-profit track is currently operated by local landscaper John Sawyer and his 5-person board. In 2009, Oldsmar BMX added a new concession/registration building, and the course is re-built every year to give the riders a challenge. Throughout the year, Oldsmar BMX holds practice every Tuesday evening, and races are held on Thursday and Saturdays. For more info on weekly racing at Oldsmar, call 727-786-7433.
ABOUT USA BMX: The American Bicycle Association (ABA) was formed in 1977 and is headquartered in Gilbert, Arizona. USA BMX organizes BMX racing for boys, girls and adults, throughout the United States, Canada, and Puerto Rico. With over 70,000 active members who compete on a weekly basis at over 370 racing facilities in 49 states, the Olympic sport of BMX Racing continues to grow.
USA BMX, with a 30 event national race schedule, is the largest promoter of action sports in the country.