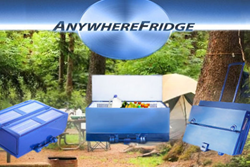 The Anywhere-Fridge ushers in a new revolution of quality, portability and sustainable refrigeration/ heating.
Albuquerque, NM (PRWEB) March 20, 2014
Spencer Trotter is proud to introduce the world's first truly portable Fridge-Freezer-Warmer that is collapsible, solar powered, and can run all day while charging a lithium battery to run all night.
Created and designed in Albuquerque, New Mexico, (U.S.A.) and Launched on March 11, 2014.
The Anywhere-Fridge ushers in a new revolution of quality, portability and sustainable refrigeration/ heating. The Anywhere-Fridge liberates the convenience of industrial refrigeration from the limitations of your home. The Anywhere-Fridge can run off of its detachable solar panels which charge the built-in ion-lithium battery. Through this process, the device is able to sustain functional ability on one complete charge for a full night.
The objective of this project is to give consumers the freedom to bring a fully functional refrigerator with them wherever they go and whenever they need it. Whether they're camping, tailgating or living without power for days on because of a terrible storm, the Anywhere-Fridge gives them cooling/heating no matter the location or amenities available. Anywhere-Fridge is equipped to perform like an industrial-strength refrigerator while being portable and accommodating. This product is perfect for the enthusiast outdoors men, tailgaters, common beach goer, regular soccer moms and everyday grocery shopping. Shoppers can relax without trying to rush home in traffic before their ice cream melts..
Spencer Trotter and his team have been working on The Anywhere Fridge for the past 3-years utilizing their personal funds and time to get to this point. Funding support will be used to take the Anywhere- Fridge into final testing, production and delivery.
The funds raised will be used for....

Manufacturing and meeting minimum order quantity requirements of our manufacturers
Production tooling and mold creation costs
Certification costs (UL - Certification)
Packaging design and sourcing
Setting up delivery and support channels
Designing the supply chain process
This campaign will receive all funds raised even if it does not reach its goal in the continued process to reach the goal needed in funding listed at Indiegogo.com search (Anywhere Fridge) Here at SST-Technologies, our ultimate goal is to raise the funding regardless of the time so we can bring the world the Anywhere Fridge. This is a product we believe in, this a product the world needs.
Funding duration: February 22, 2014 - April 23, 2014 (11:59pm PT).
Indiegogo Page: http://bit.ly/1elMQlz