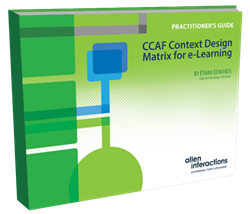 Minneapolis, MN (PRWEB) March 19, 2014
Michael Allen's CCAF-based Design Model for designing instructional interactivity (that defines good interactivity as having Context, Challenge, Activity, and Feedback) is one that Allen Interactions has been advocating for many years. This model can be exceptionally powerful in creating impactful e-learning, but the familiarity of the CCAF terms and the apparent simplicity of the model can sometimes get in the way of designers really achieving its power. Designers seem to get stuck translating the ideas into actual designs.
Context presents a particular challenge to designers, as this is an aspect rarely even mentioned in traditional instructional design courses. And instructional designers have been trained to focus above all on getting the content right, with the context often being an afterthought. Context is a lot more than "making it pretty" or "making it fun"― it involves creating immediate meaning and significance in the mind of the learner.
On Wednesday, April 2nd, Ethan Edwards will present a special webinar that will guide participants through designing context and taking full advantage of its role in creating effective interactions. Ethan will introduce The CCAF Context Design Matrix for e-Learning to assist designers in maximizing the impact of meaningful context when they set out to build future e-learning courses or projects. This method will be illustrated with several real-world e-learning examples.
Webinar Objectives:

Establish the importance of Context in the CCAF-based Design Model
Explore some of the most effective ways to build meaningful Context
Introduce The CCAF Context Design Matrix for e-Learning that provides concrete direction in making Context design decisions
Illustrate the significance of Context in several real-world e-learning examples
Get Exclusive Access to The CCAF Context Design Matrix for e-Learning
For participating in this webinar, attendees will receive exclusive access to The CCAF Context Design Matrix for e-Learning created by Ethan Edwards!
About Ethan Edwards
Ethan Edwards draws from more than 25 years of industry experience as an e-learning instructional designer and developer. He is responsible for the delivery of the internal and external training and communications that reflect Allen Interactions' unique perspective on designing and developing meaningful and memorable e-learning programs. Edwards is the primary instructor for ASTD's e-Learning Instructional Design Certificate Program. In addition, he is an internationally recognized speaker on instructional design and e-learning, and has written several white papers on creating effective e-learning. Ethan is a primary blogger for Allen Interactions' e-Learning Leadership Blog.
About Allen Interactions
Allen Interactions is an internationally-acclaimed company focused on improving performance through powerful learning experiences. For 20 years, Allen Interactions has designed and devleoped cusotm e-learning and blended learning solutions that address the widley varied performance goals of the world's leading organizations. With a wealth of experience and a track record of success in instructional design, technology, creativity, process, and project management, Allen Interactions consistently achieves positive business impact. For more information, visit: http://www.alleninteractions.com.
In 2009, the company established Allen Learning Technologies to create a revolutionary, web-based authoring and publishing system, ZebraZapps, which empowers serious authors to create, publish, collaborate, and share powerful learning experiences—all via a professional grade, visual editor. For more information, visit: http://www.zebrazapps.info.