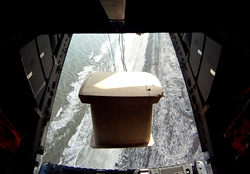 "You need to get on a fire soon enough, with enough."
Fresno, California (PRWEB) March 19, 2014
Rick Goddard, President of Caylym Technologies, joined a panel of five experts to discuss the current and future prospects for aerial firefighting with Aaron Harber, host at http://www.HarberTV.com, a weekly television program promoting mutually respectful civil discourse and broadcasting from Denver, Colorado.
This two part series (see them here) which aired recently sparked several significant conversations; the real costs of wildfires, current resources, and how domestic strategy and tactics differ from those abroad.
Aaron mentioned the real cost of wildfires and the widely quoted annual cost of two billion dollars spent managing them. He stated that when we include health, lost commerce, destroyed infra-structure, property loss and damage, and environmental destruction the group agreed these costs skyrocket. Collectively the cost of wildfires is between 20 to 100 billion dollars annually.
Rick Goddard reminded the group that post-fire clean-up and restoration costs are also underestimated. Keeping real costs in mind, the group discussed how currently available resources can be deployed to fight and contain wildfires.
Noted is the decrease in the U.S. Forest Service (USFS) aerial fleet. The USFS once had over forty-seven air-tankers in its fleet and today has less than thirteen, reflecting the challenge of keeping half-century-old aircraft flying.
"This is where Caylym's Guardian system can serve most effectively." Rick Goddard notes, "The Guardian units feature corrugated cardboard containers specially reinforced and designed to be filled with 264 gallons of water or retardant, loaded into cargo aircraft, and dropped from any one of hundreds of rear-loading cargo planes currently in service. When the boxes leave the aircraft they tip their contents in an overlapping, cascading soaking rain. The Guardian units would allow aircraft to carry 40% more payload than existing tanker systems.
Frustration with outdated inadequate technology is high. States like Colorado are attempting to finance their own fleet of air-tankers to secure the ability to defend themselves and their neighboring states from the impending wildfires.
Aaron also pointed out that even as the USFF's Next Gen program is years away from being activated, it is still introducing older aircraft. Caylym's Guardian System would allow states and the USFF to employ hundreds more existing aircraft which up to this point have been underutilized in this capacity; giving access to the latest, most modern and dependable fleet available.
The final topic generated a lively exchange on how U.S. tactics differ from those abroad.
While the USFF fight fires with diligence and intensity, several panel members note that foreign countries tend to attack fires more quickly and aggressively. "Every large fire first starts as a small fire," said Hatton. Davis agreed stating, "We have the greatest success when we get a good initial attack on a fire." Another member followed up stating, "Europe puts out fires, the U.S. fights fires." And Hatton stated, "You need to get on a fire soon enough, with enough."
Aaron assembled a great panel which addressed some of the most pressing issues of the day.
It is clear that costs are escalating and destruction is rising. This is not just a U.S. problem, even now, Australia and Indonesia are burning. In order to fight these devastating wild fires effectively authorities must have modern, dependable resources to attack fires aggressively. As new resources like the Guardian and some of the newer tankers come on-line there is greater hope in the coming years.
http://www.caylym.com Kyle Goddard: kgoddard(at)caylym(dot)com - (209) 322-9596
I had a chance to catch up with Rick Goddard, President of Caylym Technologies to ask him about his appearance and the important topics still to be discussed.
Rick, there was a lot of talk about resources, acquiring and deploying them. How do you see Caylym's
Guardian System meeting this need?
RG -The exciting fact is that there is not a shortage of aircraft. Arron wondered why the USFF is adding seven aircraft and not seventy. The Guardian System solves this issue by allowing any rear-loading cargo aircraft to be put into the fight. I like what Rick Hatton said, "You need to get on a fire soon enough, with enough." We feel the Guardian solves two problems, proximity and volume. The proximity problem is addressed because each state can use its own resources or if they lack indigenous rear-loading cargo aircraft they may be able to borrow a partner states. The bottom line is help is never far away. The volume issue is addressed because instead of depending on the use of several of the available USFF's thirty-year-old aircraft, states have the ability to launch a large scale initial attack with the number of aircraft that the fire dictates. Each newly engaged aircraft will have the ability to carry forty percent more volume and drop at a minimum of three times the altitude that current aircraft are allowed. It has been suggested that dropping from these heights may give us the ability to fight fires twenty –four hours a day; a tactic we are not currently able to do given the current fleet of aircraft.
Rick, it sounds like the Guardian may be the answer.
RG - I'm glad you see the potential but the Guardian System is a piece of the puzzle. There are other aircraft resources that will be employed and we can't forget about the ground personnel that are our most valued assets. The E.U.'s Civil Protection Mechanism which oversees emergency management has included the Guardian System as part of its initial response towards wildfires but it still counts on the rest of the resources to control and extinguish the fires.
Is Caylym concerned about these boxes of water falling among emergency personnel?
RG - That is a great question but the mission for the Guardian is a special one. First, all of the components of the Guardian are tethered together so there are no pieces randomly falling to the ground. The unit has been engineered to fall within the drop zone which is what we see in practice. Second, as you listened to the panel discuss firefighting best practices, there was one overarching theme: hit it early, aggressively, with enough. The Guardian uniquely fills this unmet gap. Most fires start by lightning strikes which can occur miles from civilization, in valleys, or areas that are not readily accessible by road. Using the Guardian allows resources to be quickly placed into the fight, long before any firefighters are even on the ground. The roles of the Guardian System continue to expand but in terms of fighting wildfires it will certainly be used as an initial attack resource and in coordination with ground forces.
POC: Kyle Goddard - (209) 322-9596
Rick Goddard – President of Caylym International
Jim Davis – Exec Director Colorado Department of Public Safety
Harris Sherman – Former Undersecretary U.S Dept. of Agriculture
Rick Hatton, President and CEO of 10 Tanker Air;
David Baskett, President & CEO of International Emergency Services