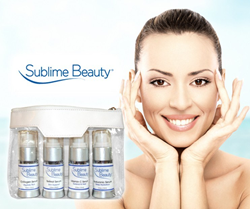 The 4 quality serums are offered together at 21% off from Sublime Beauty®.
St. Petersburg, FL (PRWEB) March 20, 2014
Serums are a joy to the skin, and can bring great benefits.
Sublime Beauty® currently offers 4 serums together in a vinyl case at 21% off.
"Our popular Collagen and Retinol serums are perfect for great skincare," says Kathy Heshelow, founder of Sublime Beauty®. "The Hyaluronic serum, less well known, is important for plumping and hydrating skin, and Vitamin C is a powerful anti-oxidant."
Matrixyl® is the key ingredient in the Collagen serum, and it has the ability to boost collagen product. As we age, we lose collagen and this is a contributing factor to lines, sagging and wrinkles. Sublime Beauty® features Matrixyl® in many of its products.
Retinol is considered by most dermatologists to be the gold standard for skincare. It can reduce pores and age spots, slough off old cells, encourage collagen production and help repair photoaging damage.
Retinol should only be used at night (it can break down in sunlight), while the other three serums can be used twice daily.
In addition, the kit is available at SublimeBeautyShop, the company webstore, which also offers the Sublime Beauty VIP Club and free shipping.
The full retail price for the four serums is $145 but currently on sale for $113.99, a 21% discount, no coupon needed.