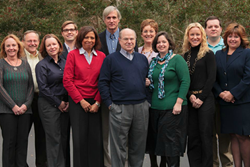 Cary, NC (PRWEB) March 19, 2014
PharmaDirections, Inc., a leader in virtual drug development, is pleased to announce that it has expanded its national presence by establishing a permanent presence on the West coast and in the Southwest. An office is now located in Portland, OR and another in Sante Fe, NM. These locations are an indication of how PharmaDirections is meeting the growing need for outsourced services in the areas of preclinical development, CMC and regulatory affairs.
Dr. Bruce Rehlaender, Principal, Formulation Development, heads up the Portland, OR office. Dr. Rehlaender has extensive experience in pharmaceutical research and development, primarily in the arena of formulation development. He has worked with both small and large molecules and has developed products for oral, parenteral, topical, pulmonary, intranasal, and intrauterine delivery. His areas of expertise include bioavailability optimization, formulation of poorly soluble drugs, lyophilized product development, and particle size analysis. Dr. Rehlaender also has extensive experience in process development, including lyophilization and sterilization cycle development, and in manufacturing of clinical and commercial drug products. Bruce joined PharmaDirections in 2007.
Sara McKenzie, PhD., MBA, Principal, Preclinical Development, runs the Sante Fe office. She has been leading teams in the development of products for the medical community for 30 years. She has been employed by mid-size pharmaceutical as well as start-up biotech companies where she was responsible for managing multiple drug development projects from the discovery stage through Phase III trials and NDA submissions. Indications have ranged from heart disease and cancer to chronic obstructive pulmonary disease, erectile dysfunction, urinary incontinence, and asthma. Her career has also included work in medical devices and protein-therapeutics, vaccines and cancer diagnostics. Her expertise spans the range of experimental design, data analysis, manufacturing, clinical operations, and the business of science, all in the pursuit of improving the practice of medicine. Sara joined PharmaDirections in 2010.
About PharmaDirections:
PharmaDirections, Inc. is a pharmaceutical project management and consulting group focused on CMC (Chemistry, Manufacturing and Controls), formulation development, preclinical and regulatory affairs. PharmaDirections focuses exclusively on working with virtual pharmaceutical companies who outsource their R&D efforts. We direct virtual contract research using experts in all aspects of drug development who provide both the intellectual oversight and the execution capabilities for any drug development activity.