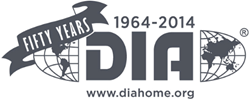 "Up to 70 percent of clinical trials experience delays at startup and almost half are completed late. The webinar will demonstrate through case studies how to apply insight to keep trials on time and possibly save millions in future revenue."
Horsham, Pa. (PRWEB) March 19, 2014
DIA and Quintiles will collaborate April 1 from 11:30 a.m. to 1 p.m. to host the complimentary webinar "Giving Your Study the Right Start Toward Success Through Optimal Country and Site Selection."
The webinar will include a discussion of ideal data types and analysis methods for developing an algorithm that establishes the most favorable countries and sites for your trial or program. There will be a special emphasis on Infinata and how its BioPharm Clinical platform complements and supports optimal strategies.
"Up to 70 percent of clinical trials experience delays at startup and almost half are completed late. The webinar will demonstrate through case studies how to apply insight to keep trials on time and possibly save millions in future revenue," said Barbara L. Kunz, DIA global chief executive.
Chris Frega, senior director and head of global feasibility at Quintiles, said the company is pleased to work with DIA to discuss best practices for assessing the right fit for particular trials.
"Our goal is to help clinical studies succeed by combining proprietary data-driven tools and processes, deep industry expertise and global relationships with Quintiles' Right Start program," Frega said.
Register today for the webinar and learn from these experts:
Chris Frega, Quintiles, senior director and head of global feasibility
Tom Larrichio, Quintiles, head of strategic site intelligence
ABOUT DIA: DIA is the global connector in the life sciences product development process. Our association of more than 18,000 members builds productive relationships by bringing together regulators, innovators and influencers to exchange knowledge and collaborate in an impartial setting. DIA's network creates unparalleled opportunities for the exchange of knowledge and has the interdisciplinary experience to prepare for future developments.
The dedicated efforts of DIA staff, members and speakers enable DIA to provide a comprehensive catalogue of conferences, workshops, training courses, scientific publications and educational materials. DIA is a global community representing thousands of stakeholders working together to bring safe and effective products to patients.
DIA is an independent, nonprofit organization headquartered in Washington, D.C., USA with regional offices covering North and South America (Horsham, Pennsylvania, USA); Europe, North Africa and the Middle East (Basel, Switzerland); and Japan (Tokyo), India (Mumbai) and China (Beijing). For more information, visit http://www.diahome.org or call DIA's Global Headquarters at 1-202-601-8902.
ABOUT QUINTILES: Quintiles is the world's largest provider of biopharmaceutical development and commercial outsourcing services with a network of more than 28,000 employees conducting business in approximately 100 countries. We have helped develop or commercialize all of the top-50, best-selling drugs on the market. Quintiles applies the breadth and depth of our service offerings along with extensive therapeutic, scientific and analytics expertise to help our customers navigate an increasingly complex healthcare environment as they seek to improve efficiency and effectiveness in the delivery of better healthcare outcomes. To learn more about Quintiles, please visit http://www.quintiles.com.