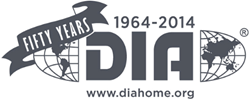 Horsham, Pa. (PRWEB) March 18, 2014
DIA and the Engelberg Center for Health Care Reform at the Brookings Institution will host "A Model of Patient, Payer, and Product Developer Collaboration to Support Innovating for Value" April 22 to 23 at the Washington Marriott Wardman Park hotel in Washington, D.C. The conference will highlight the perspectives and outcomes most relevant to patient communities: reimbursement requirements and innovative payment models for payer groups.
Event sessions will explore such topics as:

Existing Tools for Communication Between Patients, Payers, and Product Developers
Product Developer Perspectives on the Role of Patients and Payers in Driving Value-based Innovation
Patient Perspectives on Desired Health Outcomes
Payer Perspectives on Reimbursement Requirements and Innovative Payment Models
Strategies and Mechanisms to Improve Stakeholder Communication
Speakers and panels include:
April 22
Mark B. McClellan, senior fellow and director of the Health Care Innovation and Value Initiative at Brookings, will chair "Aligning Perspectives on Value and Outcomes" at 9:15 a.m. This session will discuss defining and identifying value among different stakeholders.
Margaret A. Anderson, executive director of FasterCures, a center of the Milken Institute, will chair "Discovery and Preclinical Development" at 10:50 a.m. Many opportunities exist for researchers and product developers to solicit input from payers and patients to inform the basic science and early development investments that are the foundation of the product development pipeline. The session will focus on ways stakeholders can become better involved in identifying gaps in treatment to promote innovation that addresses unmet needs and brings value to the health care system.
"Clinical Development and Regulatory Review," at 1:20 p.m., will feature speakers from the National Breast Cancer Coalition, AstraZeneca and Aetna Inc., who will focus on ways to coordinate communication strategies to ensure that product development incorporates the discussion of risks and benefits for the patients, payer groups and other stakeholders.
April 23
Marc M. Boutin, executive vice president and chief operating officer of the National Health Council, will present with speakers from Tuckson Health Connections, the Food and Drug Administration and Merck to discuss the importance of monitoring and facilitating patient, payer and product developer interaction at "Next Steps: Charting a Course Forward" at 11 a.m.
ABOUT DIA: DIA is the global connector in the life sciences product development process. Our association of more than 18,000 members builds productive relationships by bringing together regulators, innovators and influencers to exchange knowledge and collaborate in an impartial setting. DIA's network creates unparalleled opportunities for the exchange of knowledge and has the interdisciplinary experience to prepare for future developments.
The dedicated efforts of DIA staff, members and speakers enable DIA to provide a comprehensive catalogue of conferences, workshops, training courses, scientific publications and educational materials. DIA is a global community representing thousands of stakeholders working together to bring safe and effective products to patients.
DIA is an independent, nonprofit organization headquartered in Washington, D.C., USA with regional offices covering North and South America (Horsham, Pennsylvania, USA); Europe, North Africa and the Middle East (Basel, Switzerland); and Japan (Tokyo), India (Mumbai) and China (Beijing). For more information, visit http://www.diahome.org or call DIA's Global Headquarters at 1-202-601-8902.
ABOUT THE ENGELBERG CENTER FOR HEALTH CARE REFORM AT BROOKINGS: The Brookings Institution is committed to producing innovative policy solutions to our nation's most difficult challenges. The country may face no more important domestic policy challenge than the much-needed reform of our health care system. To help turn ideas for reform into action, the Brookings Institution established the Engelberg Center for Health Care Reform. The Engelberg Center's mission is to develop data-driven, practical policy solutions that promote broad access to high-quality, affordable, and innovative care in the United States. The Engelberg Center conducts research and makes policy recommendations, facilitates the development of new consensus around key issues, and provides technical support to implement and evaluate new solutions in collaboration with a broad range of stakeholders.