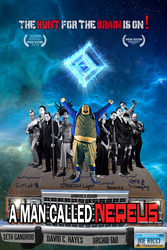 Available on i-Tunes
Scottsdale, AZ (PRWEB) March 25, 2014
Watch on iTunes now. https://itunes.apple.com/us/movie/a-man-called-nereus/id836835257
Soon to be released on Amazon.
This Action packed adventure is captured in the American Southwest and Mexico.
For the trailer and information, http://www.amancallednereus.com or http://www.facebook.com/amancallednereus. See the story behind the movie and our fight to distribution. Please LIKE our page.
Nereus is an autistic man who is being held captive by the Filaria crime family due to his unique ability to predict the exact outcome of sporting events through time travel. However, this all changes the moment he is kidnapped by a junkie who plans to take him to Las Vegas. Now on the run, the two must weave through madmen, corrupt law enforcement and new-age terrorists.
Check out our IMDB page at: http://www.imdb.com/title/tt2349643/?ref_=fn_al_tt_1
This Dark Action Comedy "A MAN CALLED NEREUS" is the debut feature of writer/director Nathan Hill, for Armored Vision. The cast is an eclectic mix of rising stars from the Southwest. With over fifty films to his credit, actor David C. Hayes plays titled character "Nereus". Rising star Seth Gandrud plays the lead character, "Keith". The lovely Orchid Tao plays "Maura", the love interest to Keith. Victoria Paege plays a Mayan princess and the legendary Joe Ricci is the bad guy "Santo". What makes this film unique is the journey that it takes you on. Shot across the Southwest and Baja California this Dark Action Comedy has an eclectic mix of characters and story-lines, constantly twisting and turning.