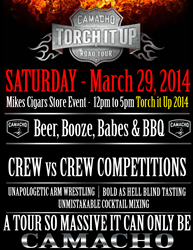 Bay Harbor, FL (PRWEB) March 20, 2014
Beer, Booze, Babes, and BBQ. What a better way to start a Saturday afternoon by indulging the senses in every aspect of the word... Get ready to "torch it up" alas Mike's Cigars in Miami Beach's Bal Harbor. Imagine this, competing in a head-on "crew vs. crew" challenges, arm wrestling competition with bold friends while holding a marvelous cigar, tantalizing mixology tastings, and blind tasting. The crew with the most points at each event will be crowned "Band of the Bold." A grill master cooking-up delicious mouth-watery food and smelling the scent of the mojo-infused BBQ chicken, New York-style hot dogs, salads and delicious condiments galore, not to mention drinking from the coldest beer-buckets on the beach and leaving the best for last, a stogie to compliment a festive afternoon. The spectacular view of gorgeous babes laughing, having fun in the breezy and sunny afternoon weather while enjoying all event activities. Few things unite tourists and locals like sitting down and enjoying appetizing southern food, refreshing cold drinks and the aroma of gratifying cigars.
Entice taste buds with blind tasting activity with great people and entertain the mind with the mystery and excitement of fantastic cigars and spirits to see how accurate someone can detect what lies behind the curtain. Listen to good old loud, rock 'n' roll music to motivate the souls while celebrating with friends and cigar aficionados. By the way, this event, if arm wrestle is not appealing, sample great smokes by Camacho family, including the Corojo, Triple Maduro, and Connecticut. If that's not tempting, do the "Mixology" tasting which offers some of the most refreshing drinks, north of South Beach.
And if that isn't enough and the heat from the scorching sun is too much, step inside a huge, cool humidor and finish the afternoon with popular bold smokes from the finest cigar selection imaginable and a glass of great wine or cold beer at the luxurious Lounge at Mike's Cigar. Smooth leather furniture, great lighting and flat screen television is an excellent atmosphere to enjoy after an afternoon of boisterous, unapologetic lively entertainment.
Finally, imagine after this unbelievable event, the possibility of actually winning an amazing full throttle, custom-built, 2014 Harley Street Bob, which will be displayed at Mike's Cigars. What better way than to end the event than by getting a chance to win in a bike giveaway. So folks simmer down in Miami Beach where anyone can always take a walk on the wild side, riding motorcycles while enjoying a badass event. Go online at camachocigars.com for more information.
Before packing bags to go back to the cold weather, stop by Mikes Cigars.
"The standard, run-of-the-mill cigar event has become quite passé. Our consumers are looking to discover great cigars and we've got that, but they are also looking for an unforgettable experience. Camacho is the catalyst for bold social occasions and we're bringing that to life in a big way with this amazing new event series. Bold smokes, motorcycles, beer, crazy cocktails, BBQ and babes; if you're into that kind of thing, we've got you covered," said Dylan Austin, Director of Marketing Camacho Hotels.