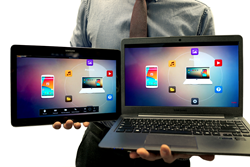 New York, NY (PRWEB) March 19, 2014
Rsupport Co., Ltd. [KOSDAQ: 131370] has revealed that their Remote PC App is pre-installed on Samsung's newest line of Galaxy NotePRO and TabPRO tablets.
The Remote PC App will allow device users to remotely access their home or office PC through a Wi-Fi, 3G, or LTE connection. Direct mouse and keyboard control will also allow users to remotely edit and save documents on the go, manage system settings, and access their favorite programs.
The Galaxy NotePRO (12.2), Galaxy TabPRO (12.2, 10.1, and 8.4) is all include Rsupport's Remote PC app. Samsung expects the large screens and high-resolution displays will offer a more convenient and versatile working environment.
In fact, the Remote PC was demonstrated to show the benefit of convenience with Galaxy NotePRO and Galaxy TabPRO series at CES 2014.
"Partnering with Samsung on their new line of Galaxy NotePRO and TabPRO tablets was certainly the right choice for us," stated Hyungsu Seo, CEO of Rsupport Co., Ltd. "With the help of Samsung, we're eager to further expand our services on a global scale and work even harder to provide mobile users around the world with innovative apps."
For more information visit http://www.rsupport.com or email us at press(at)rsupport(dot)com