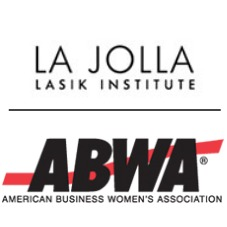 San Diego, Calif. (PRWEB) March 19, 2014
In conjunction with the American Business Women's Association (ABWA), La Jolla LASIK has created the La Jolla LASIK National Scholarship essay contest, which is now open to female students currently enrolled in a college or university. The scholarship recipient will receive $2,000, presented by La Jolla LASIK on behalf of the ABWA scholarship fund, for use towards tuition and books at the college of her choice. The winner will also be featured on http://www.ABWA.org and in the ABWA magazine.
The ABWA was established for working women and female business owners in order to help them grow personally and professionally. This is done through leadership, education, networking support, and national recognition. The organization has a true passion for empowering college women through its scholarship fund; a resource intended to provide financial support to aspiring business women. In doing this, the ABWA is enabling these women to achieve their vision of a successful future through higher education.
Inspired by the ABWA's commitment to helping women succeed in the workplace, La Jolla LASIK founder Dr. Angela Nahl has decided to get involved by contributing to the organization's scholarship fund. As a female business owner and Harvard grad, Dr. Nahl understands the importance of making education accessible for women, and hopes that La Jolla LASIK's partnership with the ABWA will bring opportunity and awareness to women in business.
La Jolla LASIK is encouraging aspiring business women from all areas of study to enter their scholarship contest. To enter, applicants must write a 500-700 word essay explaining their vision for improving the community they live in by addressing the problems they see on a daily basis and coming up with solutions for how some of these problems can be solved. To qualify, applicants must be female college students with a minimum cumulative GPA of 3.0. Further details on eligibility and submission guidelines can be found at http://www.lajollalasik.com/national-scholarship.
The essay must be submitted to scholarships(at)lajollaLASIK(dot)com no later than 11:59 pm Pacific Standard Time (PST) on Sunday August 17, 2014. Essays submitted before the deadline will be read and evaluated by the ABWA's panel of judges to determine the winner of this year's scholarship. The winner will be announced September 4, 2014 and awarded the sum of $2,000 for the 2014 Fall semester.
As the premier San Diego LASIK institute, La Jolla LASIK's mission is to give patients the freedom from glasses and contacts they desire by providing personalized treatment from one of the best surgeons in the industry. La Jolla LASIK offers a range of laser procedures that utilize the latest, most advanced technology, ensuring maximum precision and best results. Our motivation, commitment to excellence and unmatched success rate has earned us the award for San Diego's Best LASIK center year after year.