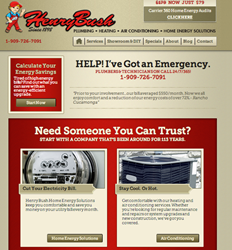 A quick and convenient way to estimate savings and costs.
Redlands, CA (PRWEB) March 20, 2014
Upgrading an outdated heating and air conditioning system to save money and energy just got easier with the energy savings calculator from Henry Bush Plumbing, Heating and Air Conditioning.
Inland Southern California homeowners can determine the cost and savings from energy-efficient upgrades, along with any rebates or incentives they might be eligible for, using the Henry Bush online energy savings calculator.
And, the calculator is customized by geographic region from the Inland Valleys and Inland Mountains to the Inland Desert and High Desert.
"Our customers are finding the calculator to be a quick and convenient way to estimate their savings and costs when considering upgrades to their heating and air conditioning systems," said Chris Patterson, a home comfort consultant with Henry Bush.
Homeowners simply click on the Calculate Your Energy Savings button on the Henry Bush website at http://www.plumbingandair.com. Then, they enter their geographic location, the year the home was built, the year the heating and air conditioning system was installed, size of the home and whether the system is all electric or a combination of electric and gas.
For example, the owner of a 2,000-square-foot home in Palm Springs that was built in 1980 can save an estimated $2,300 to $2,800 a year by simply replacing the heating and air conditioning system with a new heating and air conditioning system, ducting and insulation upgrades and switching to CFL or LED lighting.
Customers may follow up by requesting a free in-home estimate from Henry Bush. A qualified technician will assess their heating and air conditioning system and provide an accurate estimate of the cost and rebates, as well as the estimated energy savings they can expect.
About Henry Bush Plumbing, Heating & Air Conditioning:
In 1898, Henry Fisher founded the Redlands Plumbing Co. and went into business installing, fixing and maintaining the relatively new luxury commodity that was indoor plumbing. In the 1930s, Henry sold the company to a relative, and by 1954 we added "Heating" to our name. By the 1990s, we were Redlands Plumbing, Heating and Air Conditioning. Since then, we've been doing plenty of work outside of Redlands, so we've taken on the name 'Henry Bush' for our work around the rest of the Inland Empire. Today, more than 100 years later, some things are very different from when Henry Fisher founded our company. We have a fleet of shiny trucks instead of horses and carts, and our technicians install things like touch-panel LCD home controls that Henry probably never imagined. But, one thing hasn't changed. We've lasted this long because we earn the trust of our customers on every job we take. Whether you call us to fix a leaky faucet or retrofit an entire home with the latest energy-efficient technology, you can trust that we'll get the job done right. You can trust us, because earning our customers' trust is exactly what we've been doing for more than a century.