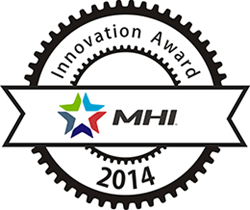 'We are very happy that our unique approach to Enterprise Mobility of giving companies a 'one-stop' solution for all of their mobile needs is recognized not only by our customers but also by industry thought leaders…'– Guru Rao – Co-Founder, nuVizz
Atlanta, Georgia (PRWEB) March 19, 2014
nuVizz, Inc. today announced that it has been nominated at MODEX 2014 for MHI's Innovation Award 2014 under "Best New Innovation" category. With more than 700 exhibitors, this nomination further validates nuVizz's recent award by CIOReview as being one of the "20 Most Promising Enterprise Mobility Consulting Companies!"
As part of nuVizz's vision to provide end-to-end mobile business solutions built on our Enterprise Mobile Platform, they are pleased by the success of DeliverIt 2.0, a Mobile Delivery Tracking and Delivery Execution System. This unique solution leverages all capabilities of a smartphone / tablet (iOS or Android) and does not require any additional hardware or software!
DeliverIt - Key Features and Benefits:

No capital expenditure cost, use existing devices
Order / Shipment tracking / Driver information tracking / Completely paperless
Multiple business partner visibility
Instant electronic proof of delivery
Geo tracking and creating geo-fences for deliveries on a Google Map
Visibility to delivery start time, stop arrival, stop departure, current shipment status in real-time
Delivery process automation by completing delivery right on the device
Fully customizable to fit your companies business vocabulary
Solution comes with free in-built MDM and Company App Store
About nuVizz:
nuVizz, Inc., a privately held company based in Atlanta provides Enterprise Mobile Solution platform and line of business mobile solutions. nuVizz approach to Enterprise Mobility is unique as it focuses on providing an end-to-end mobile solution for enterprises built on its mobile platform. The mobile business solutions are bundled with Enterprise Mobile infrastructure components such as Mobile Device Management (MDM) and Mobile Application Management (MAM) and the infrastructure components are offered for free with line of business mobile solutions. The consulting practice offers services in the areas of Enterprise Mobility and Supply Chain and Logistics.