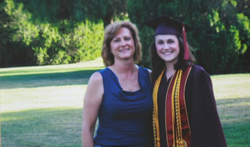 Phoenix, AZ (PRWEB) March 19, 2014
Carol Prehoda always knew she wanted her daughter Monique to have a quality Catholic education. When she became a single parent, however, that long-held dream was in jeopardy.
After receiving a financial need-based scholarship to attend Xavier College Preparatory in Phoenix, Monique graduated from Arizona State University and went on to work with CBS Television in Los Angeles. Recently she returned to Phoenix as a social media marketing manager for a local firm.
And now as a wage-earning Arizona taxpayer herself Monique plans to make her first ever tax credit gift to Catholic Education Arizona prior to the upcoming April 15th extended tax credit deadline.
Catholic Education Arizona interviewed Carol and Monique and posted their 2-minute video story online at http://www.CatholicEducationArizona.org/monique.
Currently a dollar-for-dollar gift-match applies to all first-time donors—like Monique— to Catholic Education Arizona. A 501(c)(3) charity and the state's largest school tuition organization (STO), Catholic Education Arizona uses private education tax credits to create scholarships based on financial need. Half of the 12,350 students in K-12 diocesan schools qualify for and receive aid from the charity.
Information about the gift-match and about how tax credits work can be found at http://www.CatholicEducationArizona.org or by contacting Chris Tawney, Vice President of Development, at 602-296-4738 or ctawney(at)ceaz(dot)org.