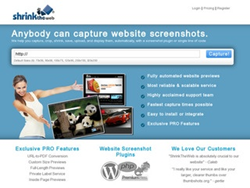 In a world where it is said that nothing is free, it is great to know offers like this still exist.
Atlanta, GA (PRWEB) March 24, 2014
In certain situations, companies like to keep the name of their content service providers confidential. In these situations, they look to integrate a service that allows for private labeling. When ShrinkTheWeb rolled out its first version of the Private Label PRO feature, it allowed users to create custom system message images to replace the default messages returned by their automated website screenshot generators. Recently, however, the developers at ShrinkTheWeb have added another feature that takes the Private Label PRO Feature to another level.
In the automated screenshot industry, it is common practice for providers to watermark screenshots or require their user to download the screenshot each time it is viewed. While this stands to benefit the service provider, it makes it difficult for some users to fully integrate automated screenshots. ShrinkTheWeb has taken a completely different approach. According to their documentation, they not only allow their users to save their screenshots on their own servers; they encourage it. In short, when a user requests a screenshot, it is theirs to keep as long as they like. Even free customers are allowed to keep their screenshots.
In a world where it is said that nothing is free, it is great to know offers like this still exist. In combination with its other PRO Features that allow users to customize the quality, size, resolution, and more, the Private Label watermark feature allows its users to truly take possession of their screenshots. Adding a custom watermark to a screenshot has many advantages. While it will not prevent theft of the screenshots, it will at least discourage it in most cases. This could prove to be an invaluable tool for companies that need to use automated web page screenshots without telling their customers the source of the images.
About ShrinkTheWeb™
ShrinkTheWeb offers a service to fully automate the capture and delivery of web page
screenshots. The company was founded in 2009 and has been a driving force in the emerging automated website screenshot marketplace. ShrinkTheWeb has always held fast to the idea that website screenshots will eventually become a staple of the Internet. They will become a commonplace replacement or enhancement to simply showing a link. They are the natural evolution to linking and referencing on the web.
For more information, please visit http://learn.shrinktheweb.com.