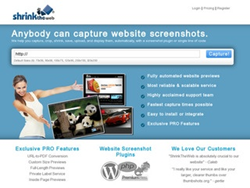 an attempt to give low usage and budget conscious users an alternative
Atlanta, GA (PRWEB) March 25, 2014
In October of 2013 the makers of ShrinkTheWeb re-launched picoshot.com, the new automated screenshot service that is loosely based on the very successful core service. While there are some significant differences between picoshot and its flagship predecessor, users of the new service still have access to the same high quality web page screenshots captured by ShrinkTheWeb's powerful generators. The scaled down service does offer a first come first serve free offering for users with small quantity requirements. The free service does not require signup but it does not offer the same level of support available with paid offering.
While users of the picoshot service can expect slightly longer wait times for their screenshots and limited tech support, the quality and cost of the service is still a strong alternative to ShrinkTheWeb and its competitors. This is an interesting strategy taken by ShrinkTheWeb, considering the success it has had with their freemium pricing method. What they did with picoshot was simplify the pricing structure by selling their automated website screenshots in blocks of 5000. According to their FAQ's their pricing structure was created in an attempt to give low usage and budget conscious users an alternative to some of the questionable low budget solutions currently on the market.
While there are some compromises made to the service to keep their costs low, there is still great value in the picoshot offering. The one feature that stands out the most is that users can save their screenshots locally on their servers. This translates to users of the service owning the screenshots they pay for, or get using the free offering. When it comes to selecting a service provider, finding a solution that gets the job done at a price that works with your budget is critical. ShrinkTheWebs' track record of providing enough options to fit the needs of as many potential users is further solidified with the new picoshot automated web page screenshot solution.
Only time will tell if the new kid on the block will share the success of its full service big brother. Considering that big things often come in small packages, we will just have to wait and see what kind of reception picoshot receives from its projected market.
About ShrinkTheWeb™
ShrinkTheWeb offers a service to fully automate the capture and delivery of web page
screenshots. The company was founded in 2009 and has been a driving force in the emerging automated website screenshot marketplace. ShrinkTheWeb has always held fast to the idea that website screenshots will eventually become a staple of the Internet. They will become a commonplace replacement or enhancement to simply showing a link. They are the natural evolution to linking and referencing on the web.
For more information, please visit http://learn.shrinktheweb.com.