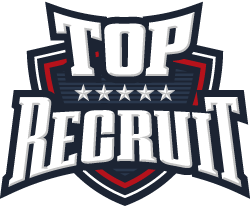 Las Vegas, NV (PRWEB) March 19, 2014
Top Recruit®, an events company working with athletes (http://vimeo.com/85577285), is pleased to announce the launching of their comprehensive sport-specific player profile system. A Top Recruit® Profile allows athletes to gather all the pertinent information on their athletic and academic career in one location, including respective sports measurables, and use it as a vital tool in increasing their chances of attracting collegiate level attention and playing at a higher level.
"Garnering attention from collegiate-level coaches isn't easy and unfortunately, the opportunities aren't always there even for some of the best players," Ian Jones, Founder of Top Recruit®, said. "We recognize that this is a struggle for most athletes and we developed our Profile system in an effort to bridge that gap between players and coaches. Our profile system will allow a player to take verifiable, un-biased third party data, obtained at one of our events across the country, and add onto it with game stats, video, pictures and also educational information that college coaches are looking for such as transcripts and academic achievements. Our goal is to provide these student athletes with an opportunity they might not have otherwise."
Top Recruit® Profiles are available for free to all college coaches across the country, with a .edu email address. Currently, Top Recruit® Profiles are available for athletes in baseball, softball, basketball, football, volleyball, lacrosse and soccer, with multiple pricing packages available. Top Recruit® has held combines and showcases across the country for baseball and softball, with their first football combine to be held in Hawaii, May 24, 2014.
"We are still growing," Jones said. "Currently our Profile system supports seven sports, but we have plans to expand in the future. We also plan to hold combines and showcases for all sports currently supported in our profile system in the next two years."
Players attending a Top Recruit® event participate in a pro-style workout with sport-specific speed and agility drills and a variety of position-specific drills and games. Most Top Recruit® events will have a mixture of college coaches or professional scouts depending on the sport.
"Our goal is to bring the best resources available for the benefit of these student athletes," Jones said. "Our focus is on making a difference in the lives of all players ages 13-18 with the different types of events we will hold over time and the resources we will bring to each city."
Currently scheduled Top Recruit® events include:
March 28-29, 2014
Fast Pitch Softball Combine
Tempe, AZ
April 19, 2014
Fast Pitch Softball and Baseball event with Combine services as a part of the ProSwings Evaluation Camp
Orlando, FL
May 24, 2014
Football Combine
Honolulu, HI
May 26, 2014
Fast Pitch Softball Combine
Denver, CO
May 31, 2014
Fast Pitch Softball Combine
Dallas, TX
June 11-12, 2014
Fast Pitch Softball and Baseball Combine in conjunction with ProSwings College Exposure Camp
Orlando, FL
July 5, 2014
Baseball Showcase
San Juan, Puerto Rico
July 7-13, 2014
Baseball Showcase
Dominican Republic
July 25-26, 2014
Baseball Showcase
Portland, OR
August 2, 2014
Fast Pitch Softball Combine
Honolulu, HI
For more details on these events and others, please visit http://www.toprecruit.com.
About Top Recruit®
The mission of Top Recruit® is to provide the best resources available to student-athletes aspiring to advance to the next level of athletic competition. We are re-imagining the way increasing an athlete's exposure works. We're building the kind of software that we would want to use ourselves: simple, efficient and attractive. It has everything college recruiters need, and nothing they don't, and handles the boring stuff for coaches so they can focus on finding the right 'top recruit' for their program. The Top Recruit® Profile system is built with athletes and parents in mind – it's on the cloud, it's cheap and it gets the job done. For more information on the services offered by Top Recruit®, please visit http://www.toprecruit.com.