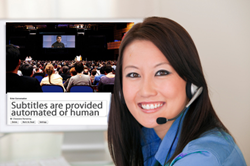 The newest and least expensive interpretation solution from 100% automated to 100% human.
Atlanta, Georgia USA (PRWEB) March 19, 2014
Translate Your World, developer of mobile and linguistic software, announces the launch of its newest software called Simultaneous Interpretation Management System (SIMS) that brings new "language switching" capabilities to any conference. Translate Your World is already known as the first automated online technology for real-time voice translation that instantly creates the highest quality subtitles in the industry in dozens of languages on any device. With the addition of SIMS to the Translate Your World arsenal, the ability to receive instant online "human interpretation" has become even easier to manage.
Translate Your World's president, Sue Reager, is proud to announce this expansion of their product. "With Translate Your World users select their preferred voice translation method: 100% Automated, 100% Human, or hybrid of the two. The 100% Automated method converts the voice of the speaker into real-time automatic subtitles in 78 languages. The 100% Human method, now enhanced by SIMS, provides a crystal clear "live translation" by a simultaneous interpreter (think United Nations) on almost any device. In this way, anyone giving or attending a conference, business meeting, or tradeshow in another country can go to a webpage to connect to the TYWI conferencing system and receive simultaneous interpretation anytime anywhere."
Conference organizers:
The new SIMS enables flipping from one interpreter to another, or one language to another, or one listener to another, without changing channels. Using Translate Your World, in as little as one hour a conference organizer can prepare a conference for multiple languages for keynotes, workshops, and breakouts online or in the room. SIMS further provides a remote interpretation channel that potentially avoids the need for channel-selector earphones by returning the interpretation on the audience's mobile phones, tablets, or laptops; or played over loudspeaker, in addition to the 100% Automated option of voice translation as subtitles. Lastly, the type-chat feature enables audience participation in their own language by typing questions that are translated for the speaker.
Individual attendees:
When a conference attendee participates in an international event, ordering personalized interpretation on-demand is now a breeze. By carrying an inexpensive microphone clipped on a laptop or tablet to capture the sound of a presentation, conversation, or meeting, Translate Your World provides instant human simultaneous interpretation in real-time on that same laptop or tablet. The interpreters may belong to the conference organizer, the attendee, or be a TYWI professional. TYWI professionals are available on a "per conference" basis and on a "per minute" basis in many languages, with connection to an interpreter arriving in as little as 60 seconds.
As with all Translate Your World products, SIMS is web-based and can be accessed from any country.
For more information and to see a demonstration in 78 languages, go to TranslateYourWorld.com.

ABOUT TRANSLATE YOUR WORLD
Translate your World ("TYW") develops numerous online web software that function in dozens of languages with voice and text. The Translate Your World suite includes applications for international web events, global mobile applications, media subtitling, and across-language conversation. Participants in Translate Your World include SDL, @International Services, IntelaText, Procom Audio, and other cutting-edge technology developers. For information, visit TranslateYourWorld.com or email to contact(at)translateyourworld(dot)com.