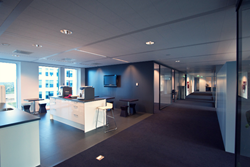 Los Angeles, California (PRWEB) March 20, 2014
Commercial Movers - a commercial moving services provider that offers nationwide services, is pleased to announce the intent to develop a state-of-the-art web moving tracker on their website. The company already has equipped its modernized fleet of class 4-8 haulers with low resistance tires and bio-diesel powered engines to increase fuel economy and reduce emissions, and has also completed the installation of GPS tracking units on each truck. Over the months to come, the company plans on adding a web tracker to their website to enable commercial and residential customers to login to check on the status of their move.
The web tracker will be a free feature that will be available to all customers of Commercial Movers upon its release. To access the moving tracker, customers will be directed to login to a specific portion of the website with their provided username and access code. Upon logging in, customers will be able to see a detailed route of their moving truck, including tracking of all progress with real-time updates.
In addition to the announced intent to release this moving tracker, the company has also released a new guide regarding flat rate moving options for customers seeking both residential and commercial moving services. The guide is a free and informative spread that can be accessed by following this web link: "Commercial Movers | Five Things to Know About Flat Rate Commercial Moving Services."
"We have been considering the development of this [web moving tracker] for quite some time," commented company spokesperson, Tom Pinkus. "The one thing that led us to this decision was in monitoring what popular parcel shipping services offer with tracking online – where you can see the progress and navigation of your package at anytime online as well as an estimated delivery date. With this forthcoming and pending web tracker—we believe that it will empower us to offer yet another valuable amenity for our commercial and residential customers."
The web tracker feature has no set launch date. The company is hard at work developing it for a future release. Once the release date nears, a finalized launch date will be announced to inform the public.
You can learn more by visiting Commercial Movers website or on their Google Plus page.