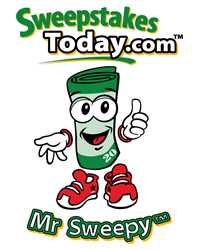 (PRWEB) March 27, 2014
Sweepstakes Today LLC, launched its website, SweepstakesToday.com in March, 2004. The site publishes and advertises sweepstakes, contest, giveaways and coupons for Fortune 1,000 companies, and makes it easy for the public to enter and track their contests and wins. This month marks the site's 10-year anniversary.
Craig McDaniel, Founder and President of Sweepstakes Today LLC, started the company after a back injury and receiving much press about winning his second truck from Firestone and General Motors. His first truck win was a Hyundai Santa Fe in 2000, but he ended up with a check because of a strike in Korea made the vehicle almost impossible to get.
"I only started entering online sweepstakes after a second back surgery and I had to give up my golf, body building and competitive weight lifting. All I had was a back brace and a computer. That's how I got started in online sweepstakes," McDaniel said in a recent interview.
It wasn't long before he realized there was a better way to find and enter sweeps than digging around in various directories and trying search terms. The result was SweepstakesToday.com, a website that lets users find the kind of contests they like easily and to keep track of the contests they've entered – all in one place. By the time he launched the site, McDaniel had won over $89,000 worth of prizes, and spent a good deal of it on his then new business.
He brought his considerable experience in corporate sales, marketing and consulting both to the design of the site with users in mind and the promotion of the site to the corporations who know sweepstakes and contests provide both a source of leads and outstanding brand recognition.
It wasn't long before McDaniel's nickname became "Mr. Sweepy." The website now carries a friendly logo-character of Mr. Sweepy, designed to welcome visitors to the site in a friendly manner.
Since 2004, Sweepstakes Today has published over 45,000 sweepstakes and contest and secured well over a billion click-through entries. The always-free-membership is now close to 300,000 people, every one of them having some interest in sweeping.
The site is loved by sweepers and contest publishers alike. Several large advertisers have been delighted to find contests published on Sweepstakes Today often outperform those published on Facebook.
"I suspect the reason we do so well with (http:// Facebook sweepstakes)," McDaniel responded when asked why this might be true, "is because of the dedication and demographics of our members."
Over the years, there have been almost 300 members who have won more than $10,000 in prizes, joining the site's prestigious 10K Club. Four have won over $100,000 in prize winnings.
"What makes running Sweepstakes Today the best job in the world is the winning stories from the members. For many, that big win is a life changing experience" McDaniel commented.
In the 10 years, Sweepstakes Today has gone through many upgrades and changes. The goal has always been a site that's friendly and easy to use. "We are about to go with our fifth major programming change," McDaniel said. "Mr. Ben Miller of Lehi, Utah and Microsoft Master rated MVP, heads the development of Sweepstakes Today. Sweepstakes Today couldn't be in better hands than Ben's running of the technical side of the website."
Miller was instrumental of development of My Lucky List™ which creates a list of the favorite daily entry sweeps for the members. This program also tracks, counts and time stamps all sweepstakes entries that for that member. "My Lucky List started out as a simple tool has turned into the second most popular page used by the members," McDaniel stated.
Asked what's next for Sweepstakestoday.com McDaniel replied saying, "We will continue to make improvements and add new features to the website to add value for the member's experience."