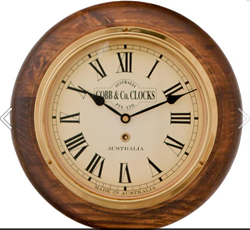 Melbourne, Australia (PRWEB) March 21, 2014
This month Australian clock and watch maker's USA division COBB & Co. Clocks celebrate as company sales surpass 2000 clocks in the USA. COBB & Co. is perhaps best known as makers of high quality, prestigious and reliable brass and polished pine clocks and barometers.
COBB & Co. Clocks were introduced to the American market in August 2013. Driven by quality and building from their experience in wooden railway clocks, COBB & Co. are continuously developing and integrating new and diverse product offerings to further entrench COBB & Co. as the world's number one brand for quality wooden clocks, barometers and watches.
The introduction of an amazing range of new concept wrist watch designs adds to the company's diverse product portfolio. With a distinct and unique style, COBB & Co. designers have used the combination of natural wood with stainless steel and leather to create a luxury timepiece with depth, texture and character.
In keeping with new product offerings, COBB & Co. recently introduced a new wall clock with dual functionality, one that is capable of telling time and keeping track of tidal changes. The COBB & Co. Tide and Time Wall Clock serves as a convenient guide to tides. It is also an ideal timepiece for anyone with an interest in the sea or for those who watch the tides for their boating, sailing, fishing, beach combing or water sports.
Timepieces can be purchased directly using the online store or via a local stockist or from an online retailer. All COBB & Co. timepieces are made using high quality materials, thereby allowing the company to provide each product with its lifetime warranty.
About COBB & Co. Clocks
COBB & Co. Clocks is a manufacturer of prestigious, reliable and high quality clocks, with headquarters in Melbourne, Australia. Their range includes wall clocks, barometers, personalized clocks, pendulum clocks, mantle clocks and many other timepieces.
Combining the conventional traditions of watchmaking and modern technology, COBB & Co. timepieces have clean lines, an elegant style that is inspired by nineteenth century Australia and an emphasis upon functionality and high standards of excellence.
All COBB & Co. timepieces are handcrafted in Australia using high quality materials and come with an unrivalled COBB & Co. lifetime guarantee. Solid plantation pine is used to house the timepieces and finished pieces are encased in solid brass bezel. For superior accuracy, all clocks are engineered by quartz mechanism which ensures the clocks will be accurate to within 10 seconds per year.
COBB & Co. Clocks
Phone: +613 9532 2955
Fax: +613 9532 2056
Email: sales(at)cobbco(dot)co