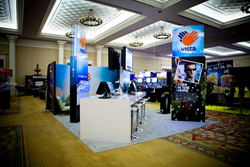 The relationship has proven extraordinarily successful with Absolute Exhibits delivering without fault in Las Vegas, Barcelona, Hong Kong and Miami.
Tustin, CA (PRWEB) March 19, 2014
CinemaCon is the largest and most important annual gathering of cinema owners and operators from around the world. From March 24 – 27 2014, the eyes and ears of the worldwide motion picture theater industry will be focused on Caesars Palace in Las Vegas. As one of the premiere exhibitors at CinemaCon, Vista Entertainment Solutions, the world leader in creating cinema management software solutions for the global cinema exhibition industry, will welcome their worldwide clientele to the four day event. In 2012 Vista received both the Exporter of the Year to the USA $500,001 - $5m' category, followed by the "Supreme Award" at the New Zealand 2012 AmCham-DHL Express Success & Innovation Awards.
Vista software is installed in cinemas in 63 countries around the world (and counting) and currently holds an estimated 35% global market share in their sector. The growth of Vista in the US market since their Los Angeles office was established in 2009 has been meteoric and Vista has confirmed a technology partnership with a number of high profile American cinema chains since.
Vista comprises Cinema, Head Office & Customer Facing software – 22 modules in total – and provides a solution to all cinema needs from POS, F&B and Loyalty, through to back-office cash control, inventory tracking, staff scheduling, data analysis for reporting, & performance monitoring. Self-service and mobile device solutions for cinema staff and the end user also form part of Vista's offer. Today, scale is enabling Vista to diversify into other software solutions for the film industry; also on offer is Veezi, a cloud-based internet ticketing solution for smaller, independent cinemas and Movio a solution tailored for movie marketers using data analytics. Additional offers, respecting the needs of other film industry audiences are in development.
In light of Vista's growth and the importance of trade show displays to market their offer and connect with their customers and prospective customers, Vista partnered with Absolute Exhibits in 2013 to provide a turnkey solution trade show booth for the four major international film industry trade shows where Vista currently exhibits."The relationship has proven extraordinarily successful with Absolute Exhibits delivering without fault in Las Vegas, Barcelona, Hong Kong and Miami. Vista is looking forward to CinemaCon 2014 in Las Vegas and will continue to be supported by Absolute Exhibits," said Christine Fenby, Vista Entertainment marketing director. Remember—When The World Goes To The Movies, The Movie World Goes To CinemaCon.
About Absolute Exhibits:
Absolute Exhibits, established in 2000, rents and sells large custom exhibit rentals at over 300 shows every year. At its inception Absolute Exhibits dedicated its entry onto trade show floors to coalesce with a new style of exhibition that takes into account sustainable tradeshow exhibiting while utilizing the highest level of environmental efficiency. Absolute Exhibits is dedicated to providing distinctive marketing settings as well as pre-and-post show and, event marketing and support services for clients.