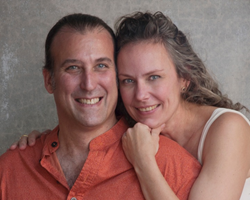 (PRWEB) March 19, 2014
Mark A. Michaels and Patricia Johnson, a happily married couple who together authored Partners in Passion, appeared on AM Northwest to share tips, tricks, and surprising ways to strengthen a relationship. They discuss how to rekindle a romantic spark through eye-gazing, the most common relationship myths and why they're false, and why men and women are more alike than they are different. They also explain that no couple should ever have to "work" on their relationship; instead, partners can begin actively paying deep attention to each other and cultivate a solid foundation from the beginning of their relationship. Michaels and Johnson will continue to tour stores and bookshops all over the US. For more information and full tour stops, visit tantrapm.com.
Partners in Passion Tour Dates:
3/20 7pm - Sugar the Shop - Baltimore MD
3/28 7:30pm - Come as You Are - Toronto, ON Canada
3/31 6pm - Origo Books - Toronto, ON Canada
4/6 5pm - SHAG Brooklyn - Brooklyn, NY
4/17 7pm - Smitten Kitten - Minneapolis, MN
4/20 1pm - A Woman's Touch - Madison, WI
4/22 8:30pm - Tool Shed Toys - Milwaukee, WI
4/24 - Early to Bed - Chicago, IL
5/9 - Namaste Bookshop - New York, NY
10/16 6:30pm - Banyan Books and Sound - Vancouver, BC Canada
Authors Mark A. Michaels and Patricia Johnson have devoted their lives to studying and teaching the art of creating intimacy and to showing couples how to maintain and sustain exciting relationships. "Partners in Passion" themselves, they are critically acclaimed collaborators as well as respected and highly sought after teachers who have traveled the world sharing their insights, knowledge, and secrets—helping thousands of people to create enduring and satisfying relationships. Not just another sexual guidebook, Partners in Passion is a unique, thorough, controversial, and life-changing approach for couples who long to create and sustain a deep, intimate bond.
A graduate of NYU and Yale, Mark A Michaels writes for scholarly and legal publications and his plays have been produced off-Broadway. He took his first Tantra class in 1997 and gave his first lecture on the subject two years later.
Patricia Johnson spent many years as a professional operatic soprano. In 1999, a longstanding interest in Tantra inspired her to attend a lecture by Mark Michaels, now her husband and collaborator. Since then, she and Michaels have taught and lectured throughout the world. They live in New York City.