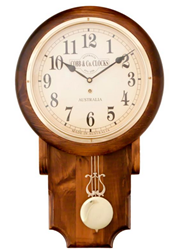 Melbourne, Australia (PRWEB) March 21, 2014
Now consumers can enjoy savings as COBB & Co. Clocks are pleased to offer shipping to Germany, The Netherlands and France at no additional cost with delivery within 1-7 business days. COBB & Co. Clocks can be purchased directly via the online store at http://cobbco.co.uk/.
Renowned as makers of elegant traditional railway clock replicas and barometers, COBB & Co. is widely recognized as a manufacturer that prides on reliability, quality and high precision craftsmanship. The company is one of the few clock manufacturers in the world that are still handcrafting these traditional timepieces using the finest raw materials.
All COBB & Co. Clocks are meticulously handcrafted in Australia using polished plantation pine for the timber backing. The wood is carefully sanded and varnished in one of the four signature colours: Golden Oak, Walnut, Antique and Mahogany. A unique attribute of their clocks is that each timepiece produced forms its own unique creation as each grain of the wood is visibly displayed in the finished product. The clocks are encased in solid brass bezel and lacquered to produce the dual effect of longevity and distinctive shine. All COBB & Co. products come with a life-time warranty.
COBB & Co. recently expanded its range to include new concept wooden wrist watches as well as their latest addition – the COBB & Co. Time and Tide Wall Clock; a clock that has the ability to tell the time as well as to measure tidal changes.
The online store also provides product support via a comprehensive help centre to assist customers with frequently asked questions pertaining to products such as pendulum clocks, chiming clocks, barometers and much more.
About COBB & Co. Clocks
COBB & Co. Clocks is a manufacturer of prestigious, reliable and high quality clocks, with headquarters in Melbourne, Australia. Their range includes wall clocks, barometers, personalized clocks, pendulum clocks, mantle clocks and many other timepieces.
Combining the conventional traditions of watchmaking and modern technology, COBB & Co. timepieces have clean lines, an elegant style that is inspired by nineteenth century Australia and an emphasis upon functionality and high standards of excellence.
All COBB & Co. timepieces are handcrafted in Australia using high quality materials and come with an unrivalled COBB & Co. lifetime guarantee. Solid plantation pine is used to house the timepieces and finished pieces are encased in solid brass bezel. For superior accuracy, all clocks are engineered by quartz mechanism which ensures the clocks will be accurate to within 10 seconds per year.
COBB & Co. Clocks
Phone: +613 9532 2955
Fax: +613 9532 2056
Email: sales(at)cobbcoclocks(dot)com