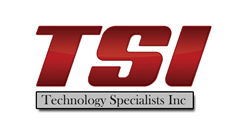 We recognize that each customer and each environment is unique. There is no one size fit all.
Bowie, MD (PRWEB) March 25, 2014
Technology Specialists Inc. (TSI), a leading integrator and provider of unified communications (UC) solutions, announced that it has achieved the Cisco TelePresence Certification. This certification expands TSI's expertise and capabilities to meet a wider demand and larger customer base.
The certification recognizes TSI as having fulfilled training requirements and program prerequisites. TSI is now in an exclusive list of organizations that can sell, deploy, and support Cisco TelePresence Video products and solutions. TSI always strives to add new capabilities and deliver the right technical resources every time.
"We recognize that each customer and each environment is unique. There is no one size fit all," said TSI President Lee White. "This achievement demonstrates TSI's ongoing commitment to expanding our solutions portfolio to be able to provide our customers with the best solution for their environment."
This is not the first time TSI has been recognized by Cisco Systems Inc. (Cisco). In 2012, Cisco established TSI as a Premier Certified Partner. This recent certification strengthens TSI's goal of growth and scope in expertise for all levels of management and security.
About Cisco TelePresence Solutions
Cisco TelePresence® solutions provide high-definition, superior audio and video to conferencing facilities. Participants can enjoy a same-room meeting experience, even if they are located in different locations around the world. Participants can also meet more often and enjoy more productive sessions and helping to improve business interactions.
About Technology Specialists, Inc.
Technology Specialists, Inc. (TSI) is a small disadvantaged business (SDB) information technology (IT) consulting firm. Headquartered in Bowie, Md., TSI specializes in delivering IT solutions to the federal government. TSI covers a wide array of services including design, implementation, optimization and support. Their talented team of specialists are experts in designing and deploying solutions that are catered to every business need. Whether it is a single resource, team, project lead, or fully outsourced turn-key solutions, TSI delivers the right technical resources every time. For more information, visit http://www.tsicorp.com.