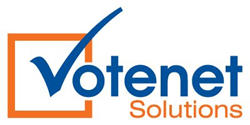 Behavioral psychology has shown that making a promise increases the likelihood of following through on that commitment.
Washington, DC (PRWEB) March 19, 2014
Votenet Solutions, the leading provider of online voting, balloting software and electioneering solutions has introduced Commit to Vote Pledges – a new feature in the company's Voter Turnout Suite that uses social science to increase voter turnout for associations, unions, private organizations and other groups driving participation through voting and elections.
Commit to Vote Pledges tap into the science of voter behavior and increase voter turnout by encouraging voters to promise to participate in upcoming elections and voting events.
"Behavioral psychology has shown that making a promise increases the likelihood of following through on that commitment. Even better is that if the person is reminded of their commitment, follow through increases even more," said Votenet CEO Michael Tuteur. "This methodology has been very successful for national political campaigns, and we are now pleased to make this scientifically proven technique available so Votenet clients can engage voters and drive greater voter participation."
eBallot's Commit to Vote Pledges increase voter turnout by:

Securing pre-election commitments from potential voters through targeted campaigns
Engaging voters by encouraging them to personalize their pledge reminders
Empowering voters to choose when to receive a reminder and how they would like to receive it (phone, email, SMS)
Retargeting committed voters with segmented email and phone campaigns to remind them of their promises to vote
"We all want to be the kind of person who keeps their word, whether it's to buy Girl Scout cookies from our niece or to vote," said Menlo College political science professor Dr. Melissa Michelson. "Studies have shown that the simple act of asking 'Can I count on you to vote?' and reminding people of their commitment has increased turnout by up to 10%. It taps into our conscience's need to keep our commitments and can be a powerful tool for Get Out the Vote efforts."
Pledges and reminders are integrated with Votenet's eBallot online voting software and voting management platform for one stop voter engagement and voting campaign management.
Call 1-800-VOTENET or email sales(at)votenet(dot)com to request a complimentary demo.
About Votenet Solutions, Inc.
Founded in 2001 Votenet™ Solutions, Inc. is an electioneering software and services company that helps membership organizations run wildly successful voting events through a unique "FITT" formula that maximizes fairness, integrity and turnout to create trusted election outcomes. Every day Votenet helps the world's most recognized organizations, communities and companies to collaborate with stakeholders to elect new leaders, make important decisions, and set new policies. It is headquartered in Washington DC and serves more than 2,000 customers.