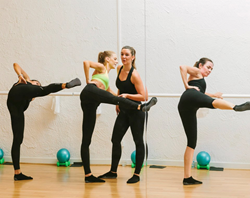 The app is really very easy to use and incredibly convenient too.
(PRWEB) March 24, 2014
The free app can be downloaded via iTunes for iPhone users or via the Google Play store for android phones. A video on how to use the new app called Inner Strength Pilates Adelaide Launches New Free Mobile App is also available via the company's website.
Pilates and Barre coach and owner Tamara Gollan runs through a quick 'how to' guide on using the App in the blog post entitled Announcing Our New Mobile Phone App.
"It's really very easy to use," she said. "And so convenient too. Often when clients remember they need to change the date of a class or book for another session it's when they're driving in the car or walking along the street and nowhere near a landline or computer.
"This way, provided they have their phone on them, they can do it then and there without having to make a note of it – and which ultimately means that additional class is more likely to get booked etc."
To use the app it's necessary to click on the "+" sign on the bottom left hand corner of the screen. The calendar allows users to book a class on a particular date. It also gives the choice of location ie the Goodwood studio for Barre classes or Hyde Park for Pilates.
The question mark should clear up any problems concerning navigation with the app. Meanwhile, clicking on the three horizontal lines in the top left hand corner will provide further options such as the users account details, pricing, class schedule and access to social media channels such as YouTube (which lists many 'how to' instructional videos) or Facebook with its regular updates and information.
Users can also remind themselves of which classes they have booked into and at what times, as well as private appointments or individual sessions. The app will also provide an update of classes attended and purchased.
The three horizontal lines mentioned previously allows users to return to the menu page where they can find the Inner Strength Pilates and Barre pricing page as well as its online store. The store doesn't just provide products but also allows users to book up for classes (and which they can bulk buy in blocks of 10, 20 or 50). It's also possible to purchase an Inner Strength Pilates and Barre gift card to introduce a friend or relative to the exercise routine. The card can then be personalised with an individual image.
It's also possible, using the app under Contracts and Packages, to purchase an introduction package to classes, or to sign up to the auto-renew payment option so that users don't forget to sign up for further classes and discover them booked.
One-on-one individual sessions can be booked via the menu page by clicking Appointments and choosing a particular option and date from the space available in the onscreen calendar.
The Class Schedule option shows which classes and disciplines will be held that week by clicking onto the different locations. The Barre classes, for instance, are held in the Goodwood studios. Users can sign up for a class by ticking on the time of their choice and choosing the Sign Up option. They will then be instantly registered for that class and, as a reminder, can add the class to their calendar.
About Inner Strength Pilates and Barre
Inner Strength Pilates is one of Australia's leading Pilates and Barre companies with three studios, all in Adelaide's King William Road. The classes all aim for a comfortable and relaxed environment. In addition to Pilates and Barre Inner Strength Pilates also offers Reformer exercises.
The company runs special classes for particular conditions such as post-natal Pilates and pregnancy Pilates, as well as help with general difficulties such as back pain, headaches and insomnia.
The timetable for classes is available from the company website. Information and updates are also recorded on Facebook and the company's Google+ pages.