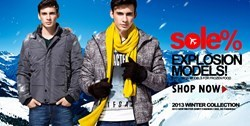 (PRWEB) March 20, 2014
Lately, Skmen.com, a well-known clothing manufacturer and retailer, has released its new range of 2014 business casual dresses. All casual outfits from the company are featured with modern looks; a lot of them have been highly prized by their buyers.
To top it all, the company's business casual dresses are all available at low rates now, up to 30% off. The company has numerous happy customers from around the world. Many of them like its fashionable products. Now, the company's website has been updated with the special offer.
As an innovation-based company, Skmen.com wants to save both money and time for worldwide customers. Its workers are striving to make its website a one-stop platform of high quality clothes. At its online store, it is safe and easy for clients to place an order. In addition, customers can write reviews and ask any related questions freely.
Skmen.com also provides fast delivery service. All the ordered products will be delivered as fast as possible. For the company, customer satisfaction is one of the top priorities and it provides 24/7 online customer service. Its major officials believe that a company can attract more clients only by offering top quality items that meet the different needs of all consumers.
About Skmen.com
Skmen.com, a China-based company founded in 2009, is one of the leading suppliers of men's and women's high quality clothes. It has more than 5000 customers from every part of the world; it hopes to help worldwide stylish ladies and gentlemen. For more detailed information about the company and its wonderful items, readers can visit http://www.skmen.com/product-casual-dresses-003004004.aspx.