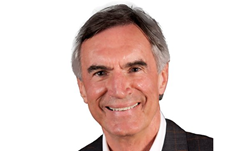 Roger's local and national audience will benefit from his show being on-demand on any device.
San Diego, CA (PRWEB) March 19, 2014
Look out, San Diego. Roger Hedgecock is back, and better than ever. The longtime conservative radio and television talk show host will unveil his first webcast on Wednesday (March 19). The show can be seen on utsandiego.com/roger
Hedgecock's televised talk show, which originally aired on U-T TV, has been re-tooled into a 100 percent digital platform which will reach local and national audiences.
This new format will allow audiences to receive updated news and information in a timely matter at their fingertips. Instead of watching an entire show at a predetermined time, viewers will be able to access the content using any electronic device, anytime, anywhere.
"We are excited to launch the Roger Hedgecock Show as part of U-T TV's all-digital evolution," said Mike Hodges, U-T San Diego President and Chief Operating Officer. "Roger's local and national audience will benefit from his show being on-demand on any device."
Hedgecock will be offering more hard-hitting news, along with his unique, uncanny, and unvarnished opinions. He'll be sitting down with guests to talk about politics and trending topics in a whole new way.
Hedgecock, a former San Diego mayor and San Diego County supervisor, has been talking about national, state, and local politics for nearly three decades on his award-winning nationally syndicated radio show, heard locally on AM760 KFMB from 3 to 6 p.m. He offers an optimistic look at the world stage and the political players who stand on it.
Hedgecock is perhaps best known as a political activist committed to San Diego. He is a self-described Constitutional Conservative and a practicing free marketeer.
Although he makes his living behind a microphone these days, Hedgecock does a lot more than just talk. He leads a continuing campaign called, "Hold Their Feet to the Fire," in which he takes his listeners and viewers on trips to Washington, D.C., encouraging them to take on the nation's political leaders as "citizen lobbyists."
For more information, visit utsandiego.com/roger
About U-T San Diego
The San Diego Union-Tribune, LLC, owner of the 145-year-old U-T San Diego, is San Diego's leading media company and its most comprehensive source of news and information. Each week, U-T San Diego products reach more than 96 percent of all San Diego County households through the combined strength of its integrated media portfolio: the Pulitzer Prize-winning newspaper, U-T San Diego; the website, UTSanDiego.com; the Night + Day weekly entertainment guide; Spanish-language products, Enlace and Vida Latina San Diego; U-T TV, a Digital Platform that provides content, news and programming; and additional home-delivered products.