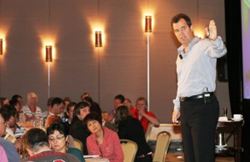 Most people think that the only financing available is through bank financing. But when they get to learn how seller finance works, it shifts their mindset completely and they begin to appreciate just how many options they have available to them
(PRWEB) March 21, 2014
Maintaining a 3-bedroom house is £124 cheaper than a property to rent with similar features as of December 2013, (Mortgage Introducer reported on 17 March 2014).
The report's data shows that the monthly cost of maintaining a three-bedroom house is currently at £645, while the average rent for the same property is at £769.
"Although the stats didn't account for one-off costs like stamp duty, valuation and other legal fees, these statisitics show how expensive renting has become. And while many people do want to become homeowners, high rental costs prevent them from saving enough for a deposit to buy a house the traditional way," according to Rick Otton, a respected property coach in the UK.
"However, high rent doesn't have to mean 'dead end' to your dream of home ownership. That's because there are plenty of ways to finance a property other than getting a bank loan. Most people think that the only financing available is through bank financing. But when they get to learn how seller finance works, it shifts their mindset completely and they begin to appreciate just how many options they have available to them in order to invest in property," he added.
Mr. Otton then explained how the flexibility of seller finance creates affordability.
"In a traditional bank loan, the bank usually funds 80% - 90% of the value of the property. The rest must come from your pocket. Now, not everyone has that 10% or 20% cash deposit. And to make matters worse, UK property prices have been increasing. So whenever a homebuyer thinks he saved enough for a deposit, prices may have likely increased and that home buyer has to save more money again. But under seller finance, the terms of payment are not limited to that set up. Depending on the agreed terms between a buyer and a seller, the buyer won't have to come up with all of the money now to make a purchase. As a result, it becomes much more convenient for the buyer to get into the property."
When asked why sellers would be agreeable to provide flexible terms for their buyers, Mr. Otton simply mentioned that flexible terms meet the two main goals of sellers.
"Understand that sellers always want to sell their property at the price they want. In addition, they want to be able to sell it as quickly as possible so they can either get their hands on the remaining equity, get rid of unwanted debt, or both. Because flexible payment terms make it convenient for buyers to make the purchase, the seller has a much better chance of selling the property quickly. And because a buyer isn't required to come up with all the cash now, it makes it easier for the buyer to meet the seller's asking price. This dynamic is similar to buying TVs in an electronics shop. Whenever a customer pays all the cash now, they receive a discount. But when they pay in instalments, they pay the full price. So that's another plus for the seller."
Going back to the issue of rental costs, Mr. Otton reiterated that the current rental market shouldn't be a hindrance to aspiring homeowners if they are willing to open their minds to other ways of doing things.
"Funding has always been the biggest force stopping people from achieving their dream whatever that may be. But in case of finding the money to buy houses, I believe that yesterday's tools have become outdated. Like what I've been saying to my students, you can't solve new problems with old processes," he said.
"Those who want a fresh and creative way to get funding for their dream home can take a look at the latest Free Pack, so they can buy houses without taking out a new bank loan or saving up large sums of cash for a deposit," Mr. Otton recommended.
Visit http://rickotton.co.uk/freepack/ to get a copy of Rick Otton's limited-edition Free Pack which contains seller finance tips on how to grow your property portfolio or buy your dream home without paying a lot of your own cash.
About Rick Otton
Rick Otton is a property investment professional who, over the last 23 years, has introduced innovative real estate strategies to the UK, Australian and the United States. His creative 'low-risk, high-reward' approach to buying and selling houses is exemplified in his own business, We Buy Houses.
This year marks the 10 year anniversary of Mr Otton introducing his strategies to the UK, and the 5 year anniversary of his innovative 'Buy A House For A Pound' process – one that attempted to be emulated by others. His constant process of strategy refinement, and adapting to the ever-changing real estate market, continues to place him at the forefront of property investment education.
In 2012 Rick Otton published his Australian book 'How To Buy A House For A Dollar' which was named in the list of Top 10 Most Popular Finance Titles for 2013. A UK version is on the drawing board for publication in 2014.
Mr Otton freely shares insights into his non-bank-loan strategies that have allowed everyday UK men and women to beat the rental cycle and have their own homes. He coaches others on how to build profitable businesses by facilitating transactions that focus on the needs of potential buyers and motivated sellers.
Access his free downloadable Power Property Profits Pack at RickOtton.co.uk, as are the details of early bird pricing for his next UK 3-day real estate training conference in March 2014. Phone enquiries in the UK are welcome on 0207 000 1027.