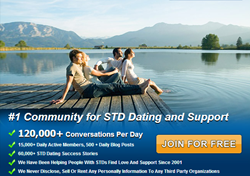 Los Angeles, California (PRWEB) March 20, 2014
PositiveSingles.com, the online dating website for people who live with Herpes, HIV, HPV and other sexually transmitted diseases (STD), has today announced the results of the debate that has taken place on its members-only 'Hot Topics' section.
The 'Hot Topic' for the past month has been: "When should you disclose to someone that you have an STD/STI; on the first date or after a few dates?" Followed by "When meeting someone who doesn't have an STD/STI, should people that do carry an STD/STI disclose the facts right away, or hold off for a few dates?"
Interestingly, 55.8 percent of the PositiveSingles.com participants believe they should be honest and divulge their STD status on first date. Some stated that "by telling the non-STD date right away, you can see how they take the news. If you see they are okay with it, then encourage your date to do their homework so that they don't make the same mistake as you." Some people said they "didn't want to invite disappointment by wasting time on someone who isn't interested and so it's best to get it over with so they can move forward or move on."
54.2 percent of people prefer to disclose their STD status after a few dates. They prefer this method as they are fearful people may run away if they tell them of their STD status on a first date, since they have not really got to know and like them. Also, after dating a few times, they have the chance to know more about each other and feel more comfortable in each other's company. Sometimes, after two dates, they may not like each other; therefore it is not suitable to reveal their STD status on a first date.
For more information on PositiveSingles.com and to see why it has grown to be the largest online dating website worldwide for people that have an STD or STI, visit and register at http://www.PositiveSingles.com.
About PositiveSingles.com
As the largest and most trusted online dating site for people living with Herpes, HPV, HIV / AIDS, Hepatitis, Chlamydia, Gonorrhea, Syphilis and other STDs, PositiveSingles.com is completely anonymous and cares about members' privacy more than other sites. You are not required to submit any information that you are not comfortable with on this site. Whatever you are looking for Herpes dating, HPV dating, HIV AIDS dating, or any other STD dating, PositiveSingles.com is the best place.