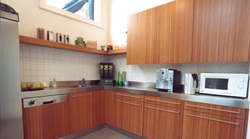 (PRWEB) March 19, 2014
Today, BothBest, one of the world's leading bamboo paneling manufacturer and wholesaler, announces custom bamboo panelings available now at their website. Customers can communicate with the company first before they place orders. (http://www.bambooindustry.com/products/bamboo-panel/)
BothBest has a strong history in providing custom designs to its global customers in the industry. Leveraging the power of good collaborative relationship with the business partners they will now be able to create the best designs in the industry for more people worldwide.
Mr. Tony, a spokesman for BothBest, explains, "We are happy to provide custom bamboo panelings according to customers' requirements. If clients cannot find their desired styles or sizes at our website, they can contact us with special requirements. Customers just need to follow a simple process."
He adds, "We aim at efficient inventory management of bamboo products to fuel market demand over the coming years. We are expanding our operations in the worldwide to provide bamboo product distributors with high quality products."
BothBest has also come up with big discounts on its full line of well handcrafted bamboo flooring products. The company promises that their products come with 100% best price guarantee. Good clients service, fast delivery, and competitive prices, are the reasons to choose BothBest.
About BothBest
Certified by both ISO9001:2008 and ISO14001:2004, BothBest has 8 years of experience in the manufacturing and wholesale of bamboo flooring products. The company strives to bring its customers the latest styles and innovations of bamboo flooring, bamboo paneling, bamboo plywoods, bamboo furnitures, and other bamboo products.
More information about BothBest and its bamboo flooring products can be found at http://www.bambooindustry.com/