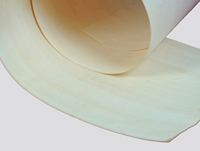 (PRWEB) March 20, 2014
Today, China bamboo veneer manufacturer BothBest, a professional company offering a wide range of bamboo products, held a seminar on how to improve product quality by explaining some typical defects in the manufacturing process.
According to the senior engineer of the company, bamboo veneer is manufactured from bamboo blocks laminated with water-proof adhesive and kiln-dried bamboo strips. The bamboo blocks are first laminated, then conditioned and soaked for two weeks before being sliced into veneer sheets.
The engineer said, "It is more difficult to produce bamboo veneers than conventional solid wood veneers. Bamboo veneer can be backed with either a paper or fabric fleece material to give the product more stability and strength."
There is a total of 15 business partners that attended the seminar. As the host, BothBest introduces how to distinguish bamboo veneer quality by explaining different product defects; the company hopes to help its customers worldwide find premium quality bamboo products at affordable rates.
The engineer added, "Talking about with the engineers of our company, people can get the answers to some specific problems in minutes. The typical defect cases will explain the complicated manufacturing process in a simple way, so that customers can have a clear understanding of our products and services."
About BothBest
Certified by both ISO9001:2008 and ISO14001:2004, BothBest has 8 years of experience in the manufacturing and wholesale of bamboo flooring products. The company strives to bring its customers the latest styles and innovations of bamboo flooring, bamboo paneling, bamboo plywoods, bamboo furnitures, and other bamboo products.
More information about BothBest and its bamboo flooring products can be found at http://www.bambooindustry.com/products/bamboo-panel/bamboo-veneer.html.