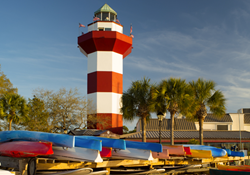 Best Places to Retire in 2014
Hilton Head, SC (PRWEB) March 20, 2014
Retirees living in the Bluffton golf communities are flying high in 2014. To Real Estate Scorecard, it is no surprise the area is named on the list of Best Places to Retire in 2014 by Forbes. The Lowcountry has been buzzing with excitement for a while, and now airlines like JetBlue have added new services to Hilton Head Island/Savannah Airport to accommodate the growing demand. Relocating retirees and their families can look forward to enjoying the city of Bluffton and Hilton Head Island with a convenient way to travel with Jet Blue Airlines.
On February 13, 2014, JetBlue announced their first day of non-stop service from New York's John F. Kennedy Airport and Boston's Logan International Airport. JetBlue and the community of residents owning Low Country real estate developments are thrilled! Now that Bluffton, South Carolina was added as 83rd on JetBlue's list of destinations, ticket prices have become more reasonable for regular travelers to and from the area. While Delta Airlines decreased the number of flights to Hilton Head Island/Savannah Airport and AirTran Air Ways stopped service in 2008, the demand for JetBlue was a no brainer. Less expensive flights to the area have increased opportunities to visit Bluffton, South Carolina. Thanks JetBlue, many more relocating retirees are anxious to see what the local Bluffton golf communities can offer during their years of more play and less work.
Retirees living in the South Carolina gated communities have known all along that this is one of the best places to live and have been quietly claiming their domain. For the past decade, retirees have been drawn to the gorgeous Hilton Head beaches, warm climate and low crime rates. Golf and boating are regular activities for retirees. Hilton Head Island is certified as a Bicycle Friendly Community. Arts and culture are embraced by the residents and galleries and exhibits are found around almost every corner. Residents of local Low Country real estate developments are involved with city events and festivals each season, and are proud to be living in one of the best places to retire in 2014.
The private gated communities are popular among retirees, and at golf neighborhoods in Bluffton like Belfair, Berkeley Hall and Colleton River Plantation. Avid golfers can play to their heart's content in the Lowcountry with dozens of courses in the area. Berkeley Hall and Belfair features their Tom Fazio championship golf courses, while Colleton River Plantation offers retirees a Pete Dye championship golf course. All three communities have state-of-the-art fitness centers, secure 24-hour gated entrances, outdoor and indoor swimming pools, tennis courts and lawn areas for family gatherings and everyday get togethers. While the amenities are plentiful in these Bluffton golf communities, the scenic views from sunrise to sunset also make this area one of the best places to retire in 2014.
Retirees interested in relaxing in a coastal paradise to admire the sweeping Low Country landscapes are in for a long term treat in Bluffton. The natural setting and preservation of nature and wildlife are highly monitored within these communities. This allows Baby Boomers and families to own Low Country real estate developments without disturbing the balance and beauty of nature.
If the Lowcountry is a consideration at retirement, Johnny Ussery and Tom Jackson of Gateway Realty are local real estate experts in Bluffton and at Hilton Head Island. Call either one of them direct at 843.757.7710.
About Real Estate Scorecard:
Real Estate Scorecard writes unbiased real estate reviews providing in-depth information about popular gated communities in Florida, Georgia, North Carolina, South Carolina and Tennessee, all in an effort to help people discover where to retire in the Southeast.
Website: http://realestatescorecard.com