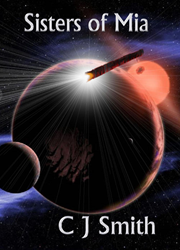 Hard Science Fiction reminiscent of Arthur C Clarke
London (PRWEB UK) 21 March 2014
Clive Smith has just published his first novel and far from looking to spend his royalties on fast cars or yachts he is giving all his earnings to the Cancer Care Charity MacMillan Nurses as a thanks for the help and support they gave his wife.
Just a year ago Clive's wife was diagnosed with a rare form of stomach cancer which needed complex treatment before an operation would be possible.
"The Macmillan organisation were brilliant," said Clive. "And for anyone with cancer they are a real support when you need them. Not just for the patient but also for family. They are there 24/7 to answer questions and talk you through anything you don't understand. At least with this book I can give something back to them. My reward is being able to do this and knowing that people have read and enjoyed my book."
'Sisters of Mia' is a hard Science Fiction novel that follows in the path of such greats as Arthur C Clarke, Larry Niven and Stephen Baxter.
"Writing the novel in the first place was a huge challenge," said Smith. "At school I suffered from what they now refer to as Dyslexia but at the time they probably just thought I was being difficult. English spelling doesn't appear natural to me."
Sisters of Mia was snapped up by Mirador Publishing who are creating something of a name for themselves in successfully launching the careers of first time novelists. They immediately saw the potential and signed him to join their growing list of new authors.
"We were very fortunate to sign Clive," said Sarah Luddington, Mirador's Commissioning Editor. "He has a natural gift for storytelling and is not afraid of pushing boundaries."
Having spent many nights staring up at the night skies and wondering what was out there, or who, Clive eventually started penning his Science Fiction novel, Sisters of Mia. The novel deals with the implications of First Contact and raises some very provocative questions on the future of mankind.
"The balance of power has always been male dominated due to the inherent strength of men, but things are changing," continued Clive. "The female of the species is gaining in strength and it is not inconceivable that they could survive one day without the need for the male component. So the reader should be left with a glimpse of where the future of mankind could be heading."
'Sisters of Mia' is published by Mirador Publishing and is available in all good bookshops and online retailers both as a paperback and as an eBook in all major formats.
Mirador Publishing can be contacted through their website at http://www.miradorpublishing.com.
Clive Smith can be contacted via his publishers.