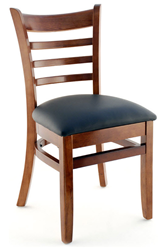 Chicago, IL (PRWEB) March 19, 2014
Leading restaurant furniture manufacturer and distributor Affordable Seating recently launched an informative Youtube video called "Restaurant Chairs 101". The video is aimed educating restauranteurs, business owners, managers and the public at large on which qualities to look for when purchasing high quality commercial chairs. It also highlights the superior construction methods and materials used by Affordable Seating as opposed to the competition.
The Youtube video focuses on the Ladder Back Chairs Affordable Seating produces. The chairs are made in the USA by skilled craftsman. "The Ladder Back Chair is the most popular chair in America," according to salesperson David M. "It has classic looks that allow it to blend into any setting and is very durable."
The chair is constructed of solid wood with sleek lines across the back. The chair measures 17" wide, 35" tall & 21" deep. Customers can customize the ladder back chair with their choice of solid wood seats and not plywood like our competition. Another option is a padded seat which is also proudly made in the USA. The seat is upholstered using American made foam and vinyl or fabric.
Affordable Seating's Ladder Back Chair is available in 5 different finishes. Custom finishing is also available upon request. The chairs are finished in a 7 stage process utilizing premium polyurethane from Sherwin Williams.
The commercial chair is assembled with mortise and tendon style construction & reinforced with heavy duty wood bolts glued for ultimate support. Each chair leg has a nylon glider attached to protect the floor.
All of Affordable Seating's chairs and bar stools are tested and certified by BIFMA (Business and Institutional Furniture Manufacturers Association), which requires the highest standards for construction of commercial furniture. This gives Affordable Seating the confidence to warrant furniture free from defects for 2 years.
Other important differences between Affordable Seating and the competition is the support frame in Affordable Seating's Ladder Back Chairs is made from 1" thick solid wood, unlike the completion which uses smaller, inferior wood. Another difference is the width of the chairs back. Comfort is key when purchasing furniture. A wider back rest provides extra comfort. Affordable Seating's chairs are at least 1/2" wider at the back rest.
Most of Affordable Seating's wood chairs and all of its solid wood table tops are made in the USA. This means that they not only support the local economy where the furniture is produced in the Midwest, it also means there is more quality control and faster shipping time for its customers. Affordable Seating is one of the few furniture distributors that also manufactures its own furniture in the USA.
To view Affordable Seating's full selection of restaurant chairs, bar stools, booths, tables and patio furniture visit http://www.affordableseating.net or call a customer service representative at (888) 495-8884.
Affordable Seating's Restaurant Chairs 101 Youtube video can be viewed at: http://www.youtube.com/watch?v=ySvpgU3tPXE&feature=youtu.be