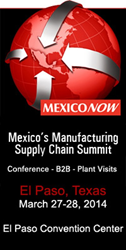 This is an opportunity for U.S. suppliers to network with customers in Mexico.
Coopersville, MI (PRWEB) March 19, 2014
In Mexico the aerospace, automotive, electronic and medical industries are growing significantly and the Mexican companies are looking to expand their supply base. SelfLube would like to take them up on their offer. On March 27-28 representatives from SelfLube will be attending Mexico's Manufacturing Supply Chain Summit.
"This is an opportunity for U.S. suppliers to network with customers in Mexico," says SelfLube owner Phil Allor. "SelfLube is the leading U.S. manufacturer of mold and die components. Our well-established reputation in the U.S. tooling industry puts us in a good position to supply customers in Mexico."
This potentially goes well beyond just tooling. Much of SelfLube's product line of precision components, such as self-lubricating bushings and gibs, has broad application in all manner of special machines and industrial equipment. "We believe that there are some unmet needs out there that we can help customers with," adds Allor.
SelfLube manufactures both conventional and self-lubricating componentry. Its product line consists of 10,000 standard part numbers in both inch and metric sizes. These can be viewed on its website http://www.selflube.com. The Company also makes specials so it can generally accommodate any size or special configuration a customer might have. SelfLube's customer service, backed by a track record of 99% on-time shipping, is the best in the industry. And, as for quality, five zero non-conformance ISO 9001:2008 audits speak for themselves.