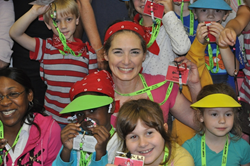 Savannah, GA (PRWEB) March 19, 2014
Children ages 6-17 who have experienced the death of a loved one within the last 24 months are invited to attend a weekend overnight camp organized by not-for-profit Hospice Savannah's Full Circle bereavement staff and volunteers.
Camp Aloha will be held May 2-4 at the New Ebenezer Retreat Center in Rincon and is free of charge thanks to the generous sponsorship of the Kaminsky Automotive Group. Trained volunteers and professionals will provide therapeutic activities to teach the children that they are not alone in their grief experience. Campers enjoy an array of activities, such as swimming, sports, games, painting, group therapy sessions, camp fires, singing, playing and making new friends who have experienced tragic losses too.
Memorial Gatherings are generally held on the first Thursday evening of every other month in the Community Education Room of Hospice House. These gatherings afford an opportunity for families, friends and staff to remember those who have died under hospice care. Memorial Gathering dates for 2014 are April 3, June 5, August 7 and October 2. Hospice Savannah's December gathering will be the annual Tree of Light celebration to be held on Sunday, December 7.
Through Full Circle, a Center for Education and Grief Support, Hospice Savannah provides a team of qualified and experienced bereavement staff members to deal with the emotional and psychological consequences of a loss. Not only do they offer a range of bereavement support for anyone whose relative or friend was cared for by Hospice Savannah, but they also support any adult, teen or child in their coverage area who is having difficulty dealing with loss.
For more information, please contact bereavement counselor Barbara Moss at Full Circle at 912-303-9442. Applications and a video from last year's camp explaining the bereavement activities in more detail are available at http://www.hospicesavannah.org/CampAloha.
About the company:
Hospice Savannah, Inc., a not-for-profit organization, provides the community with the best services and resources for living with a life-limiting illness, dying, death, grief and loss. Hospice Savannah exists to help lift the burden of worry when you or any of your loved ones receives a life limiting diagnosis.