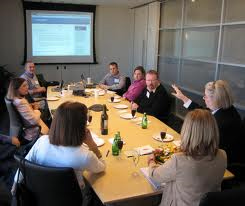 Encore Career Workshop curriculum includes both self-analysis and practical approaches to landing a job that will foster a new sense of purpose.
San Francisco, CA (PRWEB) March 24, 2014
On Wednesday, May 7, Coming of Age: Bay Area will debut its new "Encore Career Workshop" for people 50+ that want to take stock of where they are in their work lives, and make informed choices about where they want to be.
Based on the highly-acclaimed Encore Career Handbook by Marci Alboher, curriculum includes both self-analysis and practical approaches to landing a job that will foster a new sense of purpose.
"The Encore Career Workshop sprang from our very successful Explore Your Future program, bringing introspection and group exercise to bear on discovering our way forward," said Noreen McKeon, Coming of Age: Bay Area program manager. "EYF graduates may find their life's purpose in everything from travel, to education, to volunteering. This new workshop was designed for one purpose - to clarify career focus."
Encore.org defines an encore career as one that promises more meaning and springs from a desire to feel engaged. The Encore Career Workshop is for people that want to reassess career goals and redefine what they want out of life. Exercises will lead participants through the many facets of career transition, from examining their motivation for change to possible financial ramifications, asking them to examine their comfort level should an encore career offer less income. They'll become familiar with web sites and other resources that'll help them pin down encore career opportunities and be introduced to networking and other real-world skills for landing an encore career.
"The workshop offers people 50+ the opportunity to regain the momentum they may have lost in creating their next steps," said Luanne Mullin, Encore Career Workshop facilitator and chair of the SF Chapter of The Transition Network. "Like Coming of Age: Bay Area's popular Explore Your Future, participants will gain insight into encore career objectives by probing the emotional and financial challenges to getting there. They'll begin the journey toward work that's truly fulfilling."
About the company:
Coming of Age: Bay Area celebrates the ability of all people age 50+ to continue to grow, transform their communities, and become a force for public good. The organization offers volunteer opportunities, workshops, educational events and one-on-one coaching. It is sponsored by Northern California Presbyterian Homes and Services (NCPHS) with additional funding provided by the Corporation for National & Community Service/RSVP Grant, other community grants and in partnership with KQED. For more information, please visit http://www.ComingofAge.org/BayArea or http://www.Facebook.com/ComingofAgeBayArea.