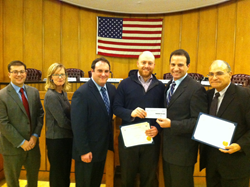 Huntington, NY (PRWEB) March 19, 2014
The City of Long Beach recently expressed their gratitude to Aboff's Paints and Benjamin Moore & Co. for their very generous donation towards the renovation of Pacific Boulevard Playground.
Pacific Boulevard Playground is located at the corner of Shore Road and Pacific Boulevard, steps away from the ocean. It is known as the "sand park" because it sits on fine beach sand. A Long Beach Park Pass is required for entry to the beach, but the park itself is free and open to the public. The playground features a jungle gym and pirate ship for kids, as well as picnic tables for adults.
Aboff's Paints is a family owned and operated company and has 28 stores, one of which is located in Long Beach at 367 East Park Ave. They will soon open their 29th store in Hampton Bays.
The store also has a pro show coming soon. This show will feature many contractors' specials and some of the best vendors helping contractors. Contact Aboff's for more information.
Baseball season is fast approaching, and Aboff's is getting ready to be at the Long Island Ducks games to help their customers be the best painters. Keep an eye out for their fun games.
For more information about Aboff's Paints, visit their website at http://www.aboffs.com/.
About the company:
Aboff's paints and decorating has been a family-owned business for more than 80 years. Whether the customer is a homeowner, decorator or professional painter, they'll find expert advice and all the paint and decorating products they could need at one of the 29 convenient locations throughout Long Island. They are Long Island's largest Benjamin Moore retailer and committed to providing the highest-quality service and products available. They offer a large selection of paints, stains and paint sundries as well as wallpaper, fabrics, Hunter Douglas window treatments & trims. Please call Aboff's at 855-230-8538 or visit their website, http://www.aboffs.com.