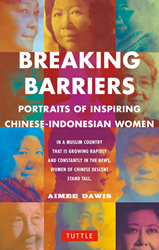 "With grace and care, Aimee Davis's Breaking Barriers showcases the lives and works of nine prominent Chinese Indonesian women."—Thomas B. Pepinsky, author of Economic Crises and the Breakdown of Authoritarian Regimes
(PRWEB) March 20, 2014
As members of a tiny ethnic minority in Indonesia—the world's largest Islamic nation—Chinese-Indonesian women face hurdles of race and gender that others would find insurmountable. In BREAKING BARRIERS, author Aimee Dawis profiles eleven highly accomplished women who have overcome these obstacles and thrived. In this book you'll meet:

An Olympic gold medalist
A world-class concert pianist
A media mogul and style icon
Plus eight other extraordinary personalities in the worlds of business, science, sports, politics and the arts.
In these profiles, Dawis shows us how Chinese-Indonesian women serve the needs of family and community while carving out a strong and independent role for themselves in their chosen fields through determination, a belief in their ability and strong pride in their ethnic roots. These Asian women may be members of a minority group, but their stories provide inspiration for future generations of Chinese-Indonesian women, and women everywhere.
Aimee Dawis teaches at the University of Indonesia's Department of Communication within the School of Social and Political Sciences and the Department of Literature within the School of Humanities. She has shared her research and experiences as a Chinese -Indonesian woman in various newspapers and journals in Indonesia, and conducts research on the Indonesian film industry. She is the author of "The Chinese of Indonesia and Their Search for Identity: The Relationship Between Collective Memory and the Media" (Cambria 2009).
BREAKING BARRIERS is available for on Amazon.com, BN.com and directly from the publisher at TuttlePublishing.com. It can also be found in bookstores everywhere.
About Tuttle Publishing
Established in 1948 by Charles Egbert Tuttle Jr. in Rutland, Vermont and Tokyo, Japan, Tuttle Publishing is the premier publisher of English language books on Asian culture. Today, Tuttle maintains an active offering of books on a wide range of topics, including Asian culture, Asian literature, Asian architecture, Eastern spirituality, gardening, cooking, martial arts, crafts, travel, health and wellness, and fine art for a worldwide audience.