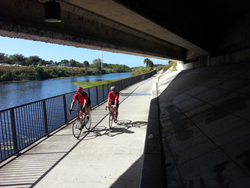 "We look forward to working together with RJ Watson on this exciting new product. I believe this product has great potential," Lahnie Johnson, President and founder of Acoustiblok, Inc., said.
Tampa, FL (PRWEB) March 21, 2014
Acoustiblok Inc. and RJ Watson Inc. have announced the signing of an agreement providing RJ Watson Inc. of Buffalo, NY the exclusive rights to market and distribute a new bridge joint noise reduction product called Acoustiblok Bridge Joint Isolation Material®in North America. More on product... This agreement represents the first of ongoing agreements towards national and international distribution between Acoustiblok Inc. and RJ Watson Inc.
Bridge expansion joints are designed to permit the longitudinal expansion and contractions on bridge decks due to changes in environmental conditions. It is commonly known that an environmental noise nuisance occurs as motor vehicle wheels pass over the joint. It has until now never been resolved because no material could be put in the joint which would stop sound and still allow the joint to expand and contract.
Travelling over a bridge expansion joint with a vehicle creates a short noise impulse that can range from 70‐105 decibels on a sound meter. Every 10 decibels of sound represents a doubling in the amount of sound heard by the human ear. How loud is 70‐105 decibels? To put that in context, a garbage disposal emits about 80 decibels of sound, a lawnmower about 90 decibels, and a bulldozer about 100‐105 decibels.
"RJ Watson is the ideal partner for Acoustiblok Joint Isolation Material. As a worldwide designer, manufacturer and supplier of bridge joint systems and a leading bridge joint repair specialist, they have established relationships with transportation departments and engineering personnel all over the world," said Lahnie Johnson, President and Founder of Acoustiblok Inc.
Acoustiblok Bridge Joint Isolation Material utilizes a specially formulated modification of the company's proprietary Acoustiblok sound reduction membrane. It's a heavy, yet very flexible viscoelastic polymer material that provides sound reduction through a unique adiabatic process. Rather than attempting to block or absorb sound, Acoustiblok transforms sound energy into inaudible friction energy as the material flexes from sound waves. Independent laboratory tests show that a 1/8" (3 mm) thick layer added to a standard stud wall can provide more sound reduction than 12" (305 mm) of poured concrete. Data Sheet
"We look forward to working together with RJ Watson on this exciting new product. I believe this product has great potential," said Johnson.
RJ Watson and Acoustiblok performed product testing with the D.O.T. at a vehicular bridge in Hillsborough County, FL. The test focused on a bridge joint at the western abutment. Without Acoustiblok material, bridge joint noise reached as high as 105 decibels during vehicular impact with the bridge joint. With Acoustiblok, that noise was reduced to 83 decibels, which is approximately a 99 percent reduction in pressure and over a 70 percent perceived reduction in sound to the human ear.
"Results clearly demonstrated that Acoustiblok Joint Isolation Material is very effective at reducing bridge joint noise while still permitting extensive expansion and contraction of the joint," said Johnson.
"We're excited to get this new product out there and demonstrate what an effective system it is for reducing bridge joint noise and for reducing noise pollution," said Ron Watson, President of RJ Watson Inc.
About Acoustiblok – "Quieting the World"
Acoustiblok, a NASA spinoff listed company, specializes in resolving noise issues from the miniscule sound vibrations that hinder an electron microscope from focusing, to ear splitting jet engine test facilities. Not only inventing as special needs arise, Acoustiblok also manufactures and markets such innovative products throughout the world. Appropriately, the company's catchphrase is, "quieting the world."
Primary products include Acoustiblok® viscoelastic polymer based soundproofing material, Acoustifence® outdoor noise barrier, All Weather Sound Panels®, QuietFiber® insulating material, Quiet‐ Cloud® industrial sound absorption panels, Acoustiblok WALLCOVER®, and Thermablok® aerogel nanotechnology insulation. Acoustiblok products are used in industrial, residential, commercial, and marine sectors worldwide. The company's products are made and sourced in the United States.
Acoustiblok Inc. ships products to more than 60 countries through a network of stocking distributors in the United States and on five continents across the globe. The company operates a subsidiary, Acoustiblok Mideast, in Saudi Arabia to augment our distributor network. Acoustiblok
###
About RJ Watson
RJ Watson is a worldwide designer, manufacturer and supplier of bridge bearings, seismic isolation disk bearings, multi‐rotational disk bearings, uplift bearings, bridge expansion joints, and spray applied waterproofing membranes and FRP structural systems for the bridge & highway Industry. RJ Watson