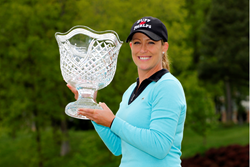 Phoenix, AZ (PRWEB) March 20, 2014
When Cristie Kerr tees off today at the JTBC Founders Cup, she'll be competing for much more than a trophy. Semper Fi Fund is thrilled to announce that The Bob & Renee Parsons Foundation will match 100 percent of Kerr's 2014 LPGA Tour winnings, dollar-for-dollar, as a donation to help injured and critically ill service members and their families. What's more, Kerr will also be sporting the Semper Fi Fund logo on her bag throughout the 2014 season, raising awareness for the vital services Semper Fi Fund provides.
This initiative is one of many ways The Bob & Renee Parsons Foundation gives back to service members. Recently, the Foundation funded the establishment of The Bob Parsons Veteran Center at the University of Baltimore; and, with contributions totaling over $4.6 million to date, their support of the Semper Fi Fund has helped countless men and women.
Kerr has throughout her career been an ardent supporter of various charitable efforts. Introduced to the Semper Fi Fund by Bob Parsons in 2013, Kerr, the daughter of a Vietnam veteran, was eager to get involved having learned about the life-changing work Semper Fi Fund is doing to help injured and critically ill veterans and their families.
"We're incredibly thankful to The Bob & Renee Parsons Foundation and Cristie Kerr for their support," said Karen Guenther, Semper Fi Fund founder and CEO. "We are strong believers in the idea of 'recovery through sport' – so what a fitting way to raise funds and support for our service members in need."
"I have been blessed that my career as a professional golfer has now given me the opportunity to give back to two causes that are very close to my heart," said LPGA star Cristie Kerr. "I started Birdies for Breast Cancer in 2003 after my mother was diagnosed with the disease to help raise money and awareness for breast cancer research and treatment. Ten years later, The Semper Fi Fund has given me the opportunity to help raise financial aid for injured and critically ill members of the U.S. Armed Forces and in so doing, allow me to pay tribute to my father for his service to this country. I applaud the Semper Fi Fund and The Bob and Renee Parsons Foundation for the work they have done around the country and specifically here the Phoenix area, my home."
"Our veterans, from each and every branch of our military, deserve to come home to a support system that reflects how much we appreciate and respect the sacrifice they have made for our country," said Bob Parsons. "Through our partnership with Cristie, I believe we will be able to help raise critical awareness and support for the great work Semper Fi Fund is doing each and every day for our country's wounded warriors."
"Bob and Renee continue to amaze us with their generosity, matched only by the size of their hearts," Guenther continued. "And we are thrilled that they introduced us to Cristie, a gifted golfer, excellent partner and wonderful person. We will be watching and cheering her on to show our support!"
To watch Kerr play in support of Semper Fi Fund this year, visit http://www.CristieKerrGolf.com/Events for the 2014 LPGA Tour schedule.
About Semper Fi Fund and America's Fund
Semper Fi Fund, and its program America's Fund, are set up to provide immediate financial assistance and lifetime support for injured and critically ill members of the U.S. Armed Forces and their families, directing urgently needed resources to post 9/11 service members of the Army, Marine Corps, Navy, Air Force, Coast Guard, and Reserves. Semper Fi Fund has been working with wounded service members since 2004, offering assistance to lessen the burden for those who need it most. The Semper Fi Fund's streamlined structure keeps overhead very low, 6%; they are also one of three veteran charities to receive an "A+" rating from The American Institute of Philanthropy, and a "Four Star" rating from Charity Navigator. The Semper Fi Fund has given more than 68,000 grants totaling more than $87 million to 11,000 service members and their families.
For more information, visit https://SemperFiFund.org/ and http://AmericasFund.org/.
About the Bob & Renee Parsons Foundation
The Bob & Renee Parsons Foundation inspires hope by providing critical funding at critical times to communities striving to make a difference. The foundation primarily focuses on issues in the greater Phoenix area. The Bob & Renee Parsons Foundation believes every person is entitled to an education, good nutrition, medical care, a stress-free, happy environment and the hope that they too, will share in the American Dream. The foundation provides funding to non-profit organizations that are successfully addressing these essential needs. The Bob & Renee Parsons Foundation is also committed to the children of Haiti, helping to grow and improve schools, medical services and overall well-being for communities in rural Haiti through the Hope for Haiti organization.
About Cristie Kerr
Cristie Kerr is a 16-time Winner and two-time Major Champion on the LPGA Tour. She is the first American-born golfer to reach #1 in the Rolex World Rankings and is third all-time on the LPGA Tour career money list. Cristie is also recognized as one of today's most prominent breast cancer activists, philanthropist and spokesperson. In addition to her charitable work off the course, Cristie's extensive entrepreneurial resume includes building her own wine label, Curvature Wines, profits from which also benefit the fight against breast cancer.