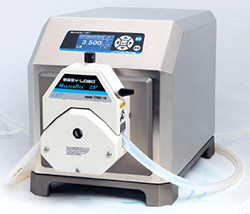 Vernon Hills, IL (PRWEB) March 19, 2014
Masterflex® pumps from Cole-Parmer are now even more accurate. All Masterflex L/S® and I/P® Digital Process Drives include antidrip functionality which briefly reverses the motor at the end of the dispense cycle for greater accuracy. Choose from either 316 stainless steel or powder-coat steel housings.
The L/S Digital Process Drives are ideal for automated process applications including fluid transfer, dispensing, and metering in lab, process, and washdown environments. Automate dispensing by using the programmable dispense interval with a selectable delay between cycles. Programmed calibration delivers dispense and display accuracy, with the drive storing one calibration per tubing size. Easy-to-clean washdown drives can be simply hosed down. Full remote control capabilities included for added convenience.
The I/P Digital Process Drives offer rugged performance with precise control. Used for fluid transfer, dispensing, and metering applications in lab, process, and industrial environments, these drives can be found in pharmaceutical, food & beverage, dairy, chemical, manufacturing, and water treatment facilities. A programmable dispense interval allows users to set the delay between dispense cycles for automated dispensing by time or volume. Precise PWM speed control (±0.1%) maximizes accuracy and efficiency while the brushless motor provides maintenance-free reliability.
To find out more about Masterflex peristaltic pumps and all of their functionality, call 800-323-4340 or go to coleparmer.com/20850.
Cole-Parmer has been a leading global source of laboratory and industrial fluid handling products, instrumentation, equipment, and supplies since 1955. Our product lines, including popular brand names such as Masterflex®, Oakton®, Digi-Sense™, and more, are sold through company-owned customer channel outlets and a strong network of international dealers. We also feature an ISO-17025-accredited metrology lab for instrument calibration and repair. Cole-Parmer responds with excellence to customer needs, and offers application expertise and technical support. For more information, contact Cole-Parmer, 625 East Bunker Court, Vernon Hills, IL 60061. In the US, call 800-323-4340. International customers, call 847-549-7600. Visit us at ColeParmer.com.