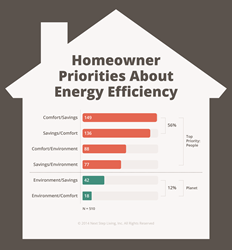 Boston, MA (PRWEB) March 20, 2014
Massachusetts and Connecticut homeowners interested in becoming more energy-efficient are most concerned about being comfortable and saving money, according to an analysis of data generated by visitors to NextStepLiving.com. Next Step Living is New England's leading provider of whole-home energy solutions.
The data came from site visitors seeking online recommendations about how to make their homes more energy-efficient. To receive relevant recommendations from the Home Energy Wizard (HEW), visitors selected their No. 1 and No. 2 priorities from a list of three: 1) live more comfortably (warmer in the winter, cooler in the summer); 2) make your home more environmentally friendly; and 3) save money on your utility bills. Fifty-six percent revealed that their comfort and savings matter more to them than the planet.
"The good news is that everyone accessing the Home Energy Wizard was interested in energy efficiency," said Next Step Living CEO Geoff Chapin. "The even better news is that people really don't have to choose one objective over the other since many energy-efficiency solutions can, to varying degrees, address all three goals of comfort, cost and sustainability. That's an important message for Earth Day and every day: What's good for the planet is good for everyone."
Out of more than 500 HEW users, 285, or 56 percent, selected comfort and savings as their top priorities. Forty-six percent ranked comfort first while 41 percent put savings first. Only 12 percent, or 60 HEW users, say making their home more environmentally friendly is what matters most. However, 44 percent ranked the environment as a first or second priority, and others may have assumed there's an environmental benefit with comfort and savings.
"To satisfy all three energy-efficiency objectives, homeowners should first consider insulating their attic and walls," said Chapin. "Utilities have good incentives to help reduce the cost of this work, resulting in even more savings per dollar spent. As well, homeowners should consider ductless mini splits to supplement their conventional heating and cooling system, particularly if they use electric or oil heat. They get room-by-room temperature control, cut energy loss and could see a savings of up to 50 percent compared to heating with oil. Upgrading to more efficient gas systems also can yield significant savings. Either way, it's a win, win, win."
The Next Step Living whole-home approach to energy efficiency includes home energy evaluations, air sealing and insulation, and energy-efficient windows. The company also offers solar power systems.
About Next Step Living
One of the fastest growing companies in the country, Next Step Living™ is the leading provider of whole-home energy solutions. Headquartered in Boston's Innovation District, Next Step Living makes it easy and affordable for people to live in homes with a low environmental impact. A one-stop service provider for informed advice, funding guidance and expert work, Next Step Living partners with more than 400 municipalities, civic organizations, leading corporations and utility companies to deliver energy-efficient and environmentally friendly solutions for better living. Since 2008, Next Step Living has helped New England homeowners achieve almost $15 million in energy savings, which is expected to grow to more than $80 million in the next five years. Next Step Living makes our world better. Please visit NextStepLiving.com for more information.