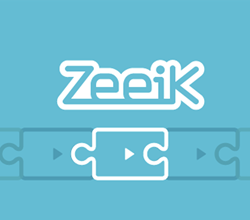 Videos are often like Lance Bass of N'Sync, okay solo but much better in a group. We help bloggers build the better YouTube video boy band
Palo Alto, CA (PRWEB) March 21, 2014
Zeeik has redesigned its service to give bloggers and vloggers a new system to collect, curate and share great YouTube content to keep readers engaged. In a digital landscape where "Top 10" lists and video collection posts generate top traffic, Zeeik provides bloggers with tools to share multiple video clips in a single window so visitors can consume all of the posted content with just one click.
For bloggers who deal with breaking news and in-depth reports, Zeeik's customizable video collections, called "zeeiks," can be updated at any time and original links retain their functionality. No matter how often a collection is updated, links won't go stale.
To encourage community building, Zeeik has modified its platform to let readers collaborate on blogger zeeiks with new recommendation and community voting tools. Voting and recommendations can now be made from any Zeeik page. Editing and approving video recommendations can now only be done on the "Edit" page, allowing blog owners and co-collaborators to join the community in making recommendations.
The other new feature from Zeeik is a notification that shows users the optimal size for embedding a zeeik collection on a personal site. After the initial embed, a pop-up will give the bloggers optimal dimensions specifically tailored to their site. Pop-up messages can also be disabled for all future posts.
Vloggers rely on YouTube's channel features to create playlists of great content. Zeeik takes this a step further with customizable, shareable playlists that automatically move on to the next video. By making this playlist embeddable on any site, vloggers can build a personal brand on both YouTube and their own site. Zeeik gives content producers and fans greater control over how they share, curate and consume video online.
"Zeeik lets bloggers grab reader attention by providing a chance to share multiple videos in one embedded playlist. Videos are often like Lance Bass of N'Sync, okay solo but much better in a group. We help bloggers build the better YouTube video boy band," said Zeeik founder and CEO Tae Sung Chung.
Zeeik has streamlined its service and simplified its tools so users can start creating their first zeeik within minutes. For more information, please visit http://zeeik.com/aboutzeeik.
About Zeeik
Zeeik is the core business unit of ComPePrice LLC. The company moved to Palo Alto in 2009 and registered the Zeeik brand as the consumer-facing platform highlighting its patented "video map" video management platform. The goal of ComPePrice and Zeeik is to improve the way people discover and watch information online. Learn more at: http://www.zeeik.com.