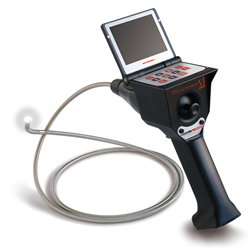 "This scope works just as well as any of the much higher priced scopes out there and the image quality is as good as anything we have seen in the past." Clete - President, Ground Power Generation Repair Company
Traverse City, Michigan (PRWEB) March 21, 2014
At the end of this month, the VJ-Advance (VJ-ADV) video borescope will be showcased in Palm Springs, California at the 2014 Western Turbine Users Inc. Conference. The conference takes place at the Palm Springs Convention Center and Renaissance Palm Springs Hotel from March 23-26, 2014. According to the conference website, this year's Western Turbine Users Inc. Conference highlights include technical presentations by industry experts on various environmental, operations and maintenance issues surrounding operations of gas turbine fired power plants.
Casey O'Tool, RF System Lab Sales Consultant, will be on site as the company's borescope expert. He is excited to meet with industry professionals looking to add ease and precision to their turbine inspections with the VJ-Advance video borescope. Current customers in the industry include Atmos Energy, American Electric Power, Exelon Corporation, NRG Energy, PSEG, Dominion Power, Alliant Energy, and NAES Corporation.
The high cost of maintaining power generation equipment, along with the critical function gas turbines perform, demand a video borescope that can keep up with industry needs. RF System Lab's VJ-Advance video borescope is compact, portable, and user-friendly. Loaded with all the key features required by gas turbine maintenance technicians: four-way, joystick-controlled articulation, image and video capture capability, outstanding optics and image quality, one-handed operation and a variety of insertion tube length and diameter options.
RF System Lab offers the industry's only no-cost, two-week on-site borescope trial. The company will send you their VJ-Advance video borescope so that you can use it while completing inspections in your own facility to be sure that it suits all of your requirements. Visit Casey O'Tool at booth #1026 at the Western Turbine Users Inc. Conference starting at 10:00am on Monday, March 24th or contact RF System Lab today at (855) 787-6966 to arrange to receive your demonstration unit.
RF System Lab, creators of the VJ-Advance video borescope, is a worldwide leader in remote visual inspection and video borescope technology. The VJ-Advance is a perfect fit for a wide range of applications and inspections. RF System Lab is so confident in the VJ-Advance that they offer a no-cost, no-obligation demo program.