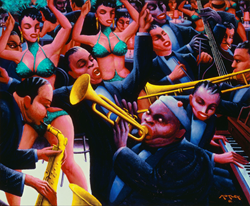 Fort Worth, Texas (PRWEB) March 19, 2014
This summer, the Amon Carter Museum of American Art presents the traveling exhibition "Archibald Motley: Jazz Age Modernist," the first retrospective of the artist's paintings in two decades. Organized by the Nasher Museum of Art at Duke University, this 40-year survey includes works from each period of Archibald John Motley Jr.'s (1891—1981) career. The exhibition is on view at the Amon Carter from June 14 through September 7, 2014; admission is free.
"Despite the broad appeal of his paintings and the significance of his work, Archibald Motley is not a well-known twentieth-century artist," says Sarah Schroth, Mary D.B.T. and James H. Semans Director of the Nasher Museum. "Many of his most important portraits and cultural scenes remain in private collections and few museums have had the opportunity to acquire his work. We are delighted that this exhibition will introduce his dazzling, colorful canvases to a wider audience and reveal the rich sociological and art historical underpinnings of his work. His paintings are as vibrant today as they were 70 years ago."
Motley's scenes of life in the African-American community, often in his hometown of Chicago, depict a parallel universe of labor and leisure and are infused with the rhythms and colors of jazz. His portraits are voyeuristic examinations of race, gender and sexuality. Also included in the exhibition are his noteworthy canvases of Jazz Age Paris and 1950s Mexico, as well as works that address slavery and racial stereotypes.
The artist was born in New Orleans and lived and worked in the first half of the 20th century in a predominately white neighborhood on Chicago's Southwest side, a few miles from the city's growing black community known as "Bronzeville." At the onset of the Harlem Renaissance—a time of cultural efflorescence for African-Americans in the 1920s—Motley reveled in painting Chicago's black community during the city's own cultural renaissance. Motley carefully constructed portraits that depict Chicago's African-American elites, but he also incorporated scenes of recently disembarked migrants from the South and other communities commonly overlooked.
The artist's incisive portraits and energetic genre scenes garnered accolades from art critics, launching a productive career. In 1929, after studying at the prestigious Art Institute of Chicago, Motley received a Guggenheim Fellowship, funding a year of study in France. During this time he created "Blues," a colorful, rhythm-inflected painting of Jazz Age Paris and several canvases that vividly capture the pulse and tempo of "la vie bohème." Similar in spirit to his Chicago paintings, these Parisian canvases thematically and pictorially extended the geographical boundaries of the Harlem Renaissance, depicting an African diaspora in Paris's meandering streets and congested cabarets. His bold approach to painting also marked his visits to Mexico in the 1950s. Motley's work from this period includes satirical, embellished scenes of country life.
"Motley was a master colorist and radical interpreter of urban culture," says Andrew J. Walker, director of the Amon Carter. "The narrative-based paintings in this exhibition feature the artist's experiences in three countries—Mexico, France and the United States; and, they are all bold, dynamic and captivating. We are delighted that our audiences will get to know the work of this expressive and transformative artist."
After closing in Fort Worth, "Archibald Motley: Jazz Age Modernist" travels to the Los Angeles Museum of Contemporary Art (October 19, 2014–February 1, 2015); the Chicago Cultural Center (March 6–August 31, 2015) and the Whitney Museum of American Art, New York (Fall 2015).
The exhibition is curated by Richard J. Powell, the John Spencer Bassett Professor of Art and Art History at Duke and recipient of the Smithsonian's Lawrence A. Fleischman Award for Scholarly Excellence in the Field of American Art History. A catalogue accompanies the exhibition, featuring critical texts by scholars Davarian L. Baldwin, David C. Driskell, Olivier Meslay, Amy M. Mooney, Richard J. Powell and poet/essayist/novelist Ishmael Reed. The catalogue is published by the Nasher Museum and distributed by Duke University Press. It is available for purchase in the Amon Carter's Museum Store for $39.95.
"Archibald Motley: Jazz Age Modernist" was organized by the Nasher Museum of Art at Duke University. The exhibition is made possible by the Terra Foundation for American Art; the National Endowment for the Humanities: Exploring the human endeavor; and the Henry Luce Foundation. Major support is provided by the Wyeth Foundation for American Art.
Free Public Programs
Thursday, June 19, 6–7 p.m.*
Fat Man in Bronzeville: Archibald Motley's Art, Lecture
Richard J. Powell, curator
Find out how the artist's paintings have captured worldwide attention for their rainbow-hued, syncopated compositions and discover their genesis in Chicago's burgeoning black community during the interwar years.
This program on American art, culture, and society is made possible by a generous gift from the late Anne Burnett Tandy.
Saturday, July 12, 10:30 a.m.–12:30 p.m.*
Art Discovery: Music, Family Workshop
Discover connections between music and the Motley exhibition and then create your own musically inspired work of art.
Thursday, July 31, 6–10 p.m.
Sunset Cinema: Chicago, Outdoor Film Series
Pack a picnic, grab some friends, and watch the hit musical Chicago (2002; PG-13) on the museum's lawn.
Thursday, August 7, 5:30–9:30 p.m.
Art in the Dark, Community Program
Have fun with music during this exciting program that features art making, tours, films and more inspired by the exhibition.
*Reservations for these programs are required; registration opens the first day of the month prior to each program. Email visitors(at)cartermuseum(dot)org or call 817.989.5030 to register.
Tours
Guided tours of Archibald Motley occur at 3:30 p.m., Thursday through Sunday. No reservations are required.
Digital images and credit lines are available here: http://www.cartermuseum.org/press/images
Username: press Password: images